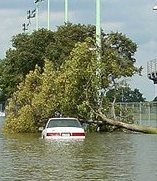 Get links to updated tropical storm/hurricane info here.
Electric utilities around the state say they're ready for power outages related to Hurricane Isaac, upgraded about 11:30 a.m. to a full-scale hurricane.
The storm is already starting to affect the service area for Entergy, which serves the Jackson metro area. Entergy expects to bring in 3,750 additional workers to help restore electricity, the company said in a statement this morning. Weather experts expect Isaac to move slowly and bring heavy rains for more than 30 hours, and Entergy said outages could last for several days.
Mississippi Power, which serves the state's southern region, has been keeping tabs on Isaac since the weekend. Mississippi Power has 186,000 customers in 23 mostly southeast Mississippi counties.
Spokesman Jay Shepard said the company will activate its storm plan once the scope of the damage and the need becomes clear. He said Mississippi Power workers will be shifted to the areas of the greatest need. Shepard also said Mississippi Power has requested additional line workers and tree trimmers to assist if necessary.
Mississippi Power is part of a four-state association that includes Alabama, Georgia and Florida. Shepard said Florida now has many extra workers it won't need that can be shifted to Mississippi.
He also said Georgia Power had additional workers on standby, but likely won't need them. They can be brought in to help restore service to Mississippi customers if needed.
Southern Pine Electric Power Association, which has more than 10,000 miles of line, is also monitoring Isaac. Dispatchers will be on duty, and Southern Pine line crews will be on standby to respond to any outages that may occur, a company news release said.
Atmos Energy, the state's largest natural gas supplier, is also monitoring Isaac. "The safety of our customers, employees and communities is our number-one priority. We are monitoring the storm, and our crews are implementing the first phase of our emergency response plan as we prepare for the hurricane," said David Gates, Atmos Energy's president of the Mississippi division.
Gates said natural gas distribution pipelines are mostly underground, but can be damaged by uprooted trees and shifted foundations. In addition, fallen limbs and other debris can damage gas meters and associated piping near homes and buildings.
After Hurricane Katrina in 2005, Mississippi Power says the company rebuilt and upgraded electrical transmission and distribution systems.
"Mississippi Power is in a state of readiness. If Isaac disrupts service to any of our customers, the company is committed and ready to work around the clock until everyone's service is restored," a company news release stated.
The Associated Press contributed to this story.
More like this story