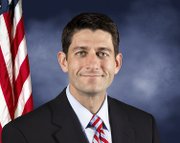 Congressman Paul Ryan is smart, boyishly handsome and comes from a well-to-do Catholic family.
He's the kind of guy your grandma would love and encourage you to emulate.
But the knock against Rep. Ryan, the person who'll fill the No. 2 slot on the GOP's presidential ticket, is that Ryan would make life hard for grannies across the U.S.
Ryan is best known as the architect of an austere budget plan that conservatives have heralded as the preferable alternative to President Barack Obama's.
The centerpiece of the Ryan budget involves scrapping Medicare, the federal health care program for the elderly, and replacing it with a voucher system in 2022. Critics say Ryan's plan would cause health-care costs for senior citizens to skyrocket because it won't keep up with inflation or rising insurance costs--a contention that Obama's reelection campaign has already started to deploy since presumptive presidential candidate Gov. Mitt Romney unveiled Ryan as his running mate Saturday in Virginia.
Romney's campaign said the former Massachusetts governor would craft his own budget if he's elected president.
The debate over the Ryan budget heats up as a new report suggests Mississippi is already a tough place for retirees.
The website Bankrate.com lists Mississippi as one of the 10 worst states in which to retire. Other southern states, including Louisiana, Alabama, Arkansas and Georgia also appear on the dubious list.
Bankrate.com performed its analysis based on crime rates, percentage of retirees living below the poverty line and life expectancy. Mississippi had a crime rate of 3,254.7 crimes per 100,000 people, 12 percent of retirees living in poverty and an average life expectancy of 74.8 years.