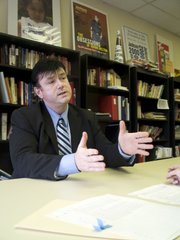 JACKSON — Friends are remembering Michael Teasley for his loyalty and activism. The 40-year-old Jackson State University student died yesterday, apparently from natural causes.
In a 2011 interview with the Jackson Free Press after his election as president of the JSU branch of the NAACP -- the first time for a white person in the school's history -- Teasley discussed his plans to reinvigorate college students to vote.
People who knew Teasley expressed shock at the news of his death and shared remembrances on his Facebook page. One friend recounted Teasley's remarks about the death of a JSU professor.
"You do so much for people and they just forget you fast," Teasley said at the time.
Of Teasley's death, his friend wrote: "Well, I'm not going to forget my friend, my colleague, my sparring partner in debates about approaches to crime prevention and activism and someone who always had my back and yours."
More like this story