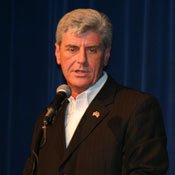 The Mississippi Legislature is debating laws that conform to the Patient Protection and Affordable Care Act, even as legal challenges to the act continue.
The law, which President Barack Obama signed in March 2010, is still weathering attacks regarding its constitutionality. Hattiesburg U.S. District Court Judge Keith Starrett tossed a lawsuit this month lodged by Lt. Gov. Phil Bryant and other Mississippians on a technicality, arguing that the plaintiffs did not prove their premise for the suit.
In Bryant's suit (Lt. Gov. Phil Bryant, et. al. vs Eric Holder., et. al), plaintiffs argue that the PPACA's minimum insurance-coverage provision will economically injure them. The new law says most Americans must have health insurance by 2014, but the plaintiffs state they do not have health insurance now and have no desire to get it. They argue that the coverage requirement will economically injure them.
The law states that those making above 133 percent of the federal poverty level ($14,484 for a single individual and $29,726 for a family of four in 2011) must purchase health-insurance. It makes those earning less than 133 percent of FPL eligible for expanded enrollment under Medicaid in January 2014.
The state Legislature, despite legal challenges, is already moving forward in response to the federal mandate that most Americans must acquire health insurance by 2014. Lawmakers are mulling House Bill 1220, which provides for establishment of a "Mississippi Health Benefit Exchange." The program will allow Mississippi health-insurance customers to shop for health insurance.
The Penalties
Maximum penalties for not having health insurance will either be a flat dollar amount, $695 per person in 2016, or 2.5 percent of the household's income for 2016, whichever is greater. The financial penalties at the onset of the requirement in 2014 is $95 per person. The penalty for uninsured children will be half of the amount for adults. Both penalties could rise with inflation in later years.
The new law also penalizes larger employers with 50 or more employees (30 of which must be full-time workers) that do not offer employer-based health insurance, and/or whose employees participate in a health-benefit exchange. To calculate the penalty, subtract 30 from the number of employees, then multiply the result by $2,000.
The Congressional Budget Office and the Joint Committee on Taxation (JCT) estimates that about 21 million nonelderly residents will still be uninsured in 2016 after the mandate kicks in, but that the majority of these individuals will not be subject to the penalty for various reasons. Some, for example, will have incomes so low that they do not have to file an income tax return. Or the premium they would have to pay for their insurance would exceed 8 percent of their income. Undocumented immigrants also will not have to have insurance, as will members of some religious denominations.
Starrett, however, ruled that plaintiffs offered "insufficient allegations" to establish that they will have to comply with the new mandate. The plaintiffs, he said, submitted no financial records indicating that they will have to purchase the mandated insurance or suffer a tax upon refusal to do so.
Bryant, in any case, is a government employee who already has insurance through the state. He must prove to the court, then, that the new government system will require him to purchase a health-insurance plan containing health options that he finds undesirable. Starrett dismissed the motion, but gave the plaintiffs 30 days to submit sufficient facts proving future injury from the mandate.
The Mississippi case is only the latest in a volley of court decisions either favoring or opposing the health-insurance mandate. Bryant's suit is separate from an even larger suit. Mississippi is among 26 states that challenged the health-care law in Florida. Almost all the states challenging the law, like Mississippi, have Republican governors. Gov. Haley Barbour joined the Florida suit for Mississippi last year.
Florida Evens the Score
U.S. District Judge Roger Vinson of Florida most recently ruled in the case involving the 26-state challenge that the federal mandate goes too far in demanding Americans purchase health insurance or pay a penalty.
"Regardless of how laudable its attempts may have been to accomplish these goals in passing the act, Congress must operate within the bounds established by the Constitution," wrote Vinson, a Ronald Reagan appointee. "Because the individual mandate is unconstitutional and not severable, the entire act must be declared void."
Vinson added that Congress "is not without power to address the problems and inequities in our health-care system," and that the health-care market comprises "more than one-sixth of the national economy." He said that Congress has the right to reform and regulate that market, but disputed that it has the right to exercise power over individual citizens, forcing them to purchase insurance.
That case (State of Florida, by and through Attorney General Pam Bondi, et al.; plaintiffs vs. United States Department of Health and Human Services, et al) could eventually go to the Supreme Court for an opinion. In the meantime, Vinson's decision evens the score the lower courts at two in favor and two in opposition to the individual health-insurance mandate argument.
Gov. Haley Barbour and his appointed head of the Mississippi Division of Medicaid, Robert Robinson, argued last year that the law's impact will put new financial pressure on the state's already shrinking budget.
Division of Medicaid Deputy Lynda Dutton told legislators last September that she expected up to a $1.7 billion increase in state Medicaid expenditures, triggered by factors such as administrative costs related to health-care reform for 2014.
The state currently has 691,677 individuals currently enrolled in Medicaid-related services. Thanks to expanded eligibility, enrollments between 2011 and 2014 could put 88,990 more children onto the rolls, and 140,948 adults and pregnant women, a state Medicaid budget report stated. Medicaid officials also expect children qualifying for the federally matched Children's Health Insurance Program to increase by 840 kids, to 68,000, while newly qualifying childless adults who make up to 133 percent above the federal poverty level will put 188,000 new beneficiaries on Medicaid rolls when they qualify in 2014.
Federal Commitment
But the American Medical Association points out that the new legislation has the states' expenses covered.
"[T]he legislation provides 100 percent federal funding for the expansion of Medicaid coverage to all individuals under age 65 with incomes up to 133 percent of FPL from 2014 to 2016, 95 percent in 2017, 94 percent in 2018, 93 percent in 2019, and 90 percent thereafter," AMA states.
Despite expanded costs to the federal government of funding new Medicaid enrollees, the Congressional Budget Office issued a March 11, 2010 report telling U.S. Senate Majority Leader Harry Reid that PPACA will reduce the nation's debt. The CBO reiterated that information in January 2011 in response to the Republican-sponsored "Repealing the Job-Killing Health Care Law Act."
"CBO and JCT now estimate that, on balance, the direct spending and revenue effects of enacting H.R. 3590 as passed by the Senate would yield a net reduction in federal deficits of $118 billion over the 2010 - 2019 period. Approximately $65 billion of that reduction would be on-budget," the CBO reported. The rest of the savings included "off-budget" deficits, such as Social Security and the United States Post Office, which are both federal entities whose budgets are not a part of the federal budget.
Media fact-checking organization Politifact.com called Republican descriptions of the new health-care law as "job killing" incorrect, citing a CBO report projecting a "half a percent" reduction in the labor in the economy as a result of the law. The CBO reported that the reduction in labor does not amount to job losses, but rather a personal choice of individuals to reduce their own work hours because of their new eligibility for expanded Medicaid.
Mississippi House Public Health Committee Chairman Rep. Steve Holland, D-Plantersville, said he tossed Robinson from his committee last month due to Robinson's bias against the program.
"I don't think (Robinson's) word is factual," Holland said. "I don't think he knows much about the Medicaid program. I don't trust his numbers. He twists things to meet his 'government-light' approach to Medicaid, and I'm tired of it. ... He has been absolutely the worst director in the program's history, and I'm just weary," Holland said.
In response to our calls, Robinson sent the following statement via e-mail: "Medicaid is the sixth statewide agency I have managed, and I've worked for six different governors, Democrats and Republicans. We have had clean federal and state audits, and our eligibility error rate is one of the lowest, if not the lowest, in the country. I have ... never witnessed the type of behavior exhibited by Representative Holland at the two meetings I attended last month."
.
More like this story