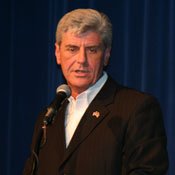 Stories this photo appears in:
Lt. Gov. Phil Bryant spent the better half of a March 8 public forum mischaracterizing the Voting Rights Act of 1965 as a former president's lingering attempt to influence southern ...
Politics
The Mississippi Senate struck down Lt. Gov. Phil Bryant's controversial substitute redistricting plan, which would have diffused black voting power in Hattiesburg, with a 35-to-16 vote today.
Health Care
The Mississippi Legislature is debating laws that conform to the Patient Protection and Affordable Care Act, even as legal challenges to the act continue.
Politics
Lt. Gov. Phil Bryant accused immigrants' advocacy agencies of committing felonies at a public forum Monday in Madison.