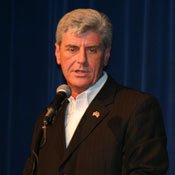 A Bush-appointed Federal Judge in Hattiesburg threw out a lawsuit last week in which Lt. Gov. Phil Bryant and 10 other residents challenged the constitutionality of the Patient Protection and Affordable Care Act.
In his Feb. 3 decision, Keith Starret, U.S. District Court Judge for the Southern District of Mississippi, wrote that the plaintiffs did not have sufficient standing for him to take the case and gave them 30 days to amend their complaint. The 10 residents who joined the suit do not have any health insurance and claim the act's minimum health care provision, which states that applicable individuals who do not fall under special exemptions must obtain minimum essential coverage by 2013, is unconstitutional.
"Plaintiffs' First Amended Petition contains insufficient allegations to establish that they will certainly be 'applicable individuals' who must comply with the minimum coverage provision," the ruing states.
Starret's decision states that the plaintiff's alleged injuries are based on speculation because in the next four years they may obtain health insurance through an employer or qualify for Medicare or Medicaid.