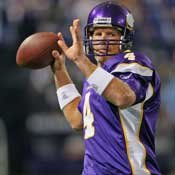 It officially started Aug. 6. No, not the new league year in the NFL. Favre Watch 2011 kicked off when the retired quarterback, Brett Favre, denied to The Miami Herald that he had any interest in joining the Miami Dolphins. On Aug. 10, former Minnesota Vikings head coach Brad Childress told the NFL Network in an interview that Favre might not be done.
"I believe he's finished playing, but you know, we're just starting to play these (preseason) games," Childress said. "If somebody gets nicked, someone may have a need, and somebody may be a salesman enough to talk him off the ranch."
Favre Watch 2011 heated up more two days later when Favre himself got involved again. This time talking to the NFL Network, the old gunslinger said he wasn't motivated to play in 2011.
"I don't have that feeling, that chip on my shoulder," Favre said. "I mean, I could easily talk myself into that chip on my shoulder like, 'Hey, everybody hates you,' ... I could motivate myself."
You have to be blind not to notice how Favre's statement ends: He could easily talk himself into playing this season. The NFL Network's Rich Eisen reminded us on twitter: "First rule of Favre Watch: Favre Watch is NEVER over."
Until this season just about over, there is no way to completely say without a shadow of a doubt that Favre will not return. Favre fits my theory of crazy ex-girlfriends: Just when you think they are gone forever, they come back.
With that in mind, here are the teams that could use Favre in the 2011 season. Miami is not the list because it was discussed earlier but Favre would be a good fit there.
Washington Redskins
    Twice in 2011, Favre would get a shot at the New York Giants, Dallas Cowboys and Philadelphia Eagles.
When your quarterbacks in Washington are Rex Grossman and Kellen Clemens, why wouldn't you want Favre? It is not a big stretch since Redskins owner Dan Snyder is known for bringing in aging veterans and throwing huge amounts of money at them.
Mike Shanahan could nix this deal. Also, Washington is a long shot for the playoffs.
Favre index: Not likely.
Detroit Lions
    The Lions will be a very good football team this season. The sticking point is Matt Stafford's health.
Since being drafted with the number-one overall pick in 2009, Stafford has only played in 13 total games in two seasons. He is as fragile as a porcelain doll, so adding Favre to back him up would make sense.
Favre knows the NFC North and would have weapons galore like Calvin Johnson, Brandon Pettigrew and Jahvid Best. The Lions are a potential playoff team this season but only if Stafford stays up right.
History has shown us that Stafford will go down and so will Detroit when he does. That is unless, the Lions add Favre.
Favre index: If Stafford doesn't last till mid-season, you can book it.
San Francisco 49ers/Seattle Seahawks
    I put these two teams together because they are basically the same. The 49ers are hoping Alex Smith finally justifies being picked 23 spots ahead of Aaron Rogers or that rookie Colin Kaepernick can do the job as a second-round draft pick from this year.
Seattle got rid of Matt Hasselbeck and added Tarvaris Jackson, who couldn't beat Favre in Minnesota. The Seahawks still have Charlie Whitehurst, who has spent more time holding a clipboard in the NFL than a football.
My thinking is sound here. The NFC West could be the weakest division in the NFL. Heck, last season the Seahawks won the division with a losing record.
So think about for just a second. If the Seahawks can defeat defending Super Bowl Champion New Orleans Saints with Hasselbeck at QB, just think what they could do with Favre at QB and a home playoff (maybe more) for winning the division.
Again the 49ers finished 6-10 last season with Alex and Troy Smith taking turns at QB and Mike Singletary who was way over his head as a head coach. In a weak division with a playoff defense (hello, Patrick Willis) it makes sense to add Favre for a playoff run.
Favre index: It will happen if either team will just pick up the phone and call.
Oakland Raiders/Jacksonville Jaguars
    The Raiders swept the AFC West season going a perfect 6-0 with a revolving door at quarterback. Jason Campbell and Kyle Boller are battling for the job, but neither has made the playoffs.
Raiders owner Al Davis loves to chunk the ball down for an offense and loves being the "Island of Misfit Toys." Favre would fit in nicely on both counts.
As far as Jacksonville goes, this team has David Garrard who is a .500 starter who is always hurt and rookie Blaine Gabbert, who is not ready yet. Colts are beatable, Texans never make the playoffs. Jags head coach Jack Del Rio needs to make the playoffs to keep his job.
Favre index: Pick up the phone, guys. For the love of God, pick up the phone!
Previous Comments
ID

164850

Comment

My Favre to Jacksonville prediction looks even better today. Warm weather, no Petyon Manning for who knows how long, Matt Hasselbeck at Tennessee, Kerry Collins at Indianapolis and only Matt Schaub to get past in Texas. The Jaguars play only one cold weather game a November 20th trip to Cleveland. The rest of the schedule is: Tennessee- home game against Hasselbeck At New York Jets- early no cold weather At Carolina Panthers- rookie QB New Orleans Saints- home/not in Superdome Cincinnati Bengals- rookie QB At Pittsburgh Steelers- a loss Baltimore Ravens- at home/misses cold weather At Houston- pick to win AFC South as things stand right now BYE Week At Indianapolis Colts- dome/no cold weather At Cleveland Browns- discussed above Houston Texans- home San Diego Chargers- home Tampa Bay Buccaneers- home At Atlanta Falcons- dome At Tennessee Titans- might be cold Indianapolis Colts- home/could be no Peyton Tell me that the Jaguars couldn't be in the playoff mix with Favre at quarterback. If Jacksonville goes with Luke McCown/Blaine Gabbert all season long, Jack Del Rio should quit now to save us all seeing him getting fired at the end of the season.

Author

Bryan Flynn

Date

2011-09-06T14:26:36-06:00
ID

164857

Comment

Jack Del Rio should quit now to save us all seeing him getting fired at the end of the season. He's not quitting, he's gonna truck through and get his pay plain and simple. The organization started turning the pages by, let me add, drop kicking D. Garrard and making Luke McCown (ex-Brown) the starting quarterback and Gabbert the back-up. Their not gonna even flinch in Favre's direction

Author

Duan C.

Date

2011-09-07T06:57:11-06:00
More stories by this author