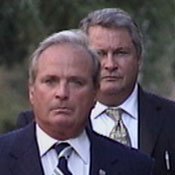 This morning The U.S. Supreme Court announced it would not hear the case of Mississippi Attorney Paul Minor and former judges Walter "Wes" Teel and John Whitfield convicted of fraud in 2007. The court also will not hear with the case of reputed klansman James Ford Seale convicted in 2007 of kidnapping and conspiracy in the 1964 deaths of two young black men.
The court turned down hundreds of appeals without comment, including the cases of Minor and Seale. Minor's attorney, Hiram Eastland, argued in the appeal that a federal jury wrongly convicted Minor in 2007 of honest services fraud after U.S. Southern District of Mississippi Judge Henry Wingate expanded sentencing instructions without clear evidence of an exchange of services between Minor and the judges. Minor, an attorney who donated heavily to Democrats, paid Teel's and Whitfield's campaign debts, but prosecutors could not prove that Minor expected favorable decisions from the judges in return, considering that the judges were appointed to Minor's cases through a traditional court process.
A jury failed to convict any of the three in a 2005 trial because prosecutors could not point specifically to an agreement for an exchange of services. Former Mississippi Supreme Court Justice Oliver Diaz, now an attorney in Jackson, managed to fight off a corruption conviction in 2005 connected to the Minor trial, after the jury learned that Diaz had never presided over any of Minor's cases.
Attorney David McCarty, who represents Whitfield, said he was disappointed with today's decision.
Minor's attorney Hiram Eastland said the case is not over: "We still have a number of legal vehicles available," he said.
The U.S. Supreme Court decision not to address the appeal contradicts the court's scrutiny of honest services convictions this past year. Earlier this year, the court overturned several cases concerning honest services convictions, including Imad Hereimi v. United States, Jack Hargrove v. United States, Paula Harris v. United States, and Mustafa Redzic v. United States. The court overturned the convictions based on its 2010 interpretation of federal law on the ENRON-related case Skilling v. United States case.
Former Supreme Court Justice Chuck McRae said Minor's case has yet to go back to District Judge Henry Wingate for resentencing concerning the 5th Circuit Court of Appeals' overturning of Minor's federal bribery charges earlier this year.
In 2007, Seale was found guilty of kidnapping and conspiracy in the 1964 deaths of Henry Hezekiah Dee and Charles Eddie Moore. Seale's court-appointed lawyers have repeatedly argued that the statute of limitations for kidnapping charges has expired, however the 5th U.S. Court of Appeals upheld the conviction in June 2009.
FBI informants stated that Seale was among several men who kidnapped Dee and Moore, allegedly tying the two young black men, both 19 at the time, to trees in the Homochitto National Forest and severely beating them. They then took the men across state lines and dumped them--wired to a Jeep engine block and possibly still alive--into an offshoot of the Mississippi River in Warren County.