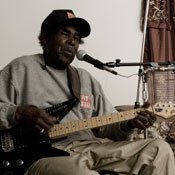 T-Model Ford may be 90 years old, but you'd never know it if you've ever heard the bluesman play his guitar.
Although the Forest, Miss., native didn't learn to play a guitar until he was 58, he grew up listening to Muddy Waters and Howlin' Wolf, and his talent has sent him all over the world on tours. On Thursday, T-Model will kick off his sixth tour of 2010 at Hal & Mal's.
Born James Lewis Carter Ford, T-Model worked on his family's farm until the age of 11. When he was a teenager, he worked at a nearby sawmill and later became a truck driver. He spent two years in prison for murder. His songs are full of rich storytelling about his time behind bars, fistfights and living life as a "dangerous man."
This year has been eventful for T Model. In January, the bluesman released his seventh album, "The Ladies Man." He toured the East Coast and Southwest in January and February, and suffered a stroke in April. He quickly recovered from his stroke, and in May, married his longtime girlfriend, Stella.
GravelRoad drummer Marty Reinsel, and Delta blues guitarist Bill Abel will join T-Model on the tour.
T-Model Ford performs at Hal & Mal's (200 Commerce St.) Dec. 2 at 8 p.m. Admission is $10. Read the JFP article "Dangerous Man" for more on T-Model Ford.
More like this story
More stories by this author