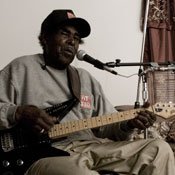 Mississippi Bluesman T-Model Ford performs at Hal & Mal's on Thursday.
Stories this photo appears in:
Music
T-Model Ford may be 90 years old, but you'd never know it if you've ever heard the bluesman play his guitar.
Music
Gritty distortion lingers in the speakers as James Louis Carter "T-Model" Ford politely nods at his cheering fans and briefly puts his guitar in his lap. He produces a flask ...