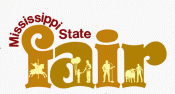 The 150th annual Mississippi State Fair opens its gates tonight at 5 p.m. and runs for 12 consecutive days, through Sunday, Oct. 18. Organizers hope to attract approximately 600,000 attendees to the mile-long midway, carnival rides, livestock exhibits and competitions, and nightly entertainment.
Regular admission for kids over 6 and adults is $5, and it's another $5 for parking. A ticket for unlimited rides is $25, and tonight's concert, featuring Saving Abel and Taddy Porter at the coliseum is only $5. On Wednesday, Oct. 14, seniors over 50 get in for free. Admission varies to the events, and you can find complete information on the Department of Agriculture Web site.
One unpredictable element that is always in question is whether the rain will stay away. In previous years, rain has kept some fair goers from the festivities. Last year's attendance also took a hit with the economy. Organizers are hoping that neither the weather nor the economy will keep people away from fair this year.
More like this story
More stories by this author