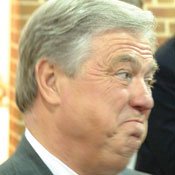 Mississippi Gov. Haley Barbour will exercise his veto power today regarding eminent domain, reports WAPT.
Dan Turner, who is Barbour's spokesman, told WAPT last Friday that Barbour will veto House Bill 803, which restricts the Mississippi government from seizing private property and transferring it to private business interests.
The bill would not have restricted the government's use of eminent domain for public use, including drainage, utilities or colleges and universities.
Barbour has said the bill is "fatally flawed," and that property owners can go to court to fight government seizures, however the bill passed the Republican-majority Senate unanimously, with only three House votes against it. That high rate of approval among the legislature may hand Barbour his first veto override, as the Jackson Free Press reported earlier this month,
"The U.S. Supreme Court says they can take your property and turn it over to a developer and use the commercial property to get more taxes out of it, but eminent domain should be used only when it's absolutely necessary," said Public Property Committee Chairman Jack Gordon, D-Okolona, when the bill was sent to the governor earlier this month. "I heard (Barbour) may veto it, but it's a House bill and I think the House would override it, and I'm sure the Senate would override it on that issue too, because it passed with an overwhelming vote."
Previous Comments
ID

145059

Comment

The House voted to override it. Next up: the Senate.

Author

golden eagle

Date

2009-03-24T15:51:42-06:00
ID

145076

Comment

Kudos to Haley for vetoing a bad bill. Too bad for Mississippi that our legislators can't see the forest for the trees.

Author

QB

Date

2009-03-25T09:33:28-06:00
ID

145080

Comment

Fat Harry, why should people have to go to court to maintain ownership over their own property just because a corporation wants it and the government agrees? Why shouldn't a profitable company have to negotiate and purchase land for expansion just like any other private entity? Eminent domain has been frequently misused in the U.S. by powerful interests without regard to people's rights. It puts the burden of defending one's property on the property owner, who frequently does not have the resources to fight big business or big government. Barbour's argument is typically full of scare tactics. Why should we believe it?

Author

Ronni_Mott

Date

2009-03-25T10:20:55-06:00
ID

145083

Comment

I'd mention speculation, but it's been ignored a couple of times already in this debate.

Author

Ironghost

Date

2009-03-25T11:24:03-06:00
ID

145084

Comment

Speaking of scare tactics, the Clarion-Ledger even supports Barbour on this one. Oh, I'm frightened, Auntie Em!

Author

chaffeur

Date

2009-03-25T12:18:31-06:00
ID

145091

Comment

Eminent domain has been frequently misused in the U.S. by powerful interests without regard to people's rights. It puts the burden of defending one's property on the property owner, who frequently does not have the resources to fight big business or big government. Citations please? Elected officials that misuse this "power" are sure to be defeated. How exactly has the government been "stealing" land from the little people here in Mississippi that such a law is warranted? Eminent domain is one of the most effective tools in a city's box to combat blight. For example, look at all the derelict buildings around the King Edward. Suppose everything around it becomes renovated, except for one building owned by a family who squabbles or refuses to sell. Enter eminent domain, pay fair market value for the property, and put it back in commerce.

Author

QB

Date

2009-03-25T13:37:59-06:00
ID

145092

Comment

Question Ronni, when has eminent domain been misused?  Frequently?  Everyone knows how this works.  The church which no longer exists and has no living members still owns a tract of land.  A huge economic development project won't go in to a place until all that is clear.  Mineral rights issues...on and on.  Also, Governor Musgrove had to do this with Nissan so it's not a R or D issue.  It's the same mindset that has held our state back forever.

Author

Hayes

Date

2009-03-25T13:40:32-06:00
ID

145094

Comment

why should people have to go to court to maintain ownership over their own property just because a corporation wants it and the government agrees? Plus we all know the Mississippi's judiciary is fair and reasonable ... well, as long as you have paid the proper judges.

Author

WMartin

Date

2009-03-25T13:55:09-06:00
ID

145095

Comment

The Supreme Court took the takings clause of the 5th amendment (stating that the state can take private land for PUBLIC USE) and expanded that notion of public use beyond lands and utilities actually available to all of the public. The landmark case, Kelo vs. City of New London, introduced this idea of "common good" to the legal view of eminent domain. Is it okay for the state to step in, force the sale of land, and then allow it to be transferred to another private owner (rather than a public park or publicly held utility), all for the good of us all? The Supreme Court ruled that it IS okay, at least until legislatures revisit the somewhat vague language in the US Constitution (public use). Also, in the case of Kelo, there was not one speck of actual "blight" in any of the homes seized. Rather, they just happened to be in a parcel of land others wanted to use, in most cases for a corporation, though one piece was for a park. more at wiki, http://en.wikipedia.org/wiki/Kelo_v._New_London

Author

Izzy

Date

2009-03-25T13:59:43-06:00
ID

145098

Comment

when has eminent domain been misused? Frequently? You bet. Here's a study from the Institute for Justice that details the inequity of the process. Here's an article from the Christian Science Monitor (pre-Kelso) that talks about another IJ study that "cited ... more than 10,000 other examples of misuse of eminent domain. In 3,700 cases, homeowners or small business were forced to sell property to private developers." The story concludes: "Broadening the tax base and encouraging urban renewal is one thing. Exercising eminent domain for strictly private development is another. Citizens must ensure their elected officials know the difference." Also, see Steven Greenhut's book "Abuse of Power: How the Government Misuses Eminent Domain." It's a controversial issue in many areas of the country.

Author

Ronni_Mott

Date

2009-03-25T14:59:12-06:00
ID

145101

Comment

Here's a little history lesson on the subject from the Castle Coalition. Also, see this excellent piece, "How Eminent Domain Ran Amok" by the Hoover Institution at Stanford University.

Author

Ronni_Mott

Date

2009-03-25T15:17:51-06:00
ID

145104

Comment

The Mississippi legislature is passing typical knee-jerk legislation regarding a NON-ISSUE in the state. Very similar to all the hoopla surrounding illegal immigration a few years ago. It's just not a problem in our state. I fear the law of unintended consequences will strike as usual, and now anytime a huge project wants to get done, they will have to petition the legislature for a loophole.

Author

QB

Date

2009-03-25T15:31:46-06:00
ID

145105

Comment

Kudos to Haley for vetoing a bad bill. Too bad for Mississippi that our legislators can't see the forest for the trees. I'd like to see what you'd say if you were being forced to give up your property for private development. Remember about a year ago when Jackson State wanted to forcibly take people's property? They wanted to take the land, then compensate later. There's nothing wrong with wanting to redevelop property, but it's wrong to just take it without fair market compensation.

Author

golden eagle

Date

2009-03-25T15:33:59-06:00
ID

145106

Comment

Right Golden, it's only a "non-issue" until it's your house being seized.

Author

Ronni_Mott

Date

2009-03-25T15:46:12-06:00
ID

145158

Comment

The Senate upheld Barbour's veto today.

Author

Ronni_Mott

Date

2009-03-26T16:16:24-06:00
ID

145161

Comment

Yep, somehow I cannot call it a non-issue when PRIVATE INDUSTRY can come and take my home so it can build a plant to make the private industry money. It is quite simply a more civilized device to transfer assets and wealth from one private citizen to another than the distasteful punching me in the nose and running off with my pocketbook, like a bully who calls himself a bully would do. Even if I can go to court to argue over the amount of money the corporation is going to pay me for my property that I don't want to sell them, I cannot argue over their right to take my property if the state law allows it. Any way its proponents paint it or re-name, it is still a transfer of a private citizen's property to another private entity. It is not a transfer of a private citizen's property to the government for public use--which is what eminent domain is suppose to be. Yes, everything is coming up roses.

Author

J.T.

Date

2009-03-26T17:48:15-06:00
ID

145168

Comment

We've had serious problems right here in Mississippi due to our government taking land for big business (Nissan) without allowing the homeowners to negotiate with the company for the best market rate on their land, such as happened with the black families in Canton then. That's one of the biggest travesties: Barbour is such a corporate-conservative that he wants to block the free market at work in these cases in favor of corporate welfare. He's naked about it; it amazes me that people can't see it. George Bush was also fan a eminent domain for private use; go figure. I'm conservative on this one, too. The government should not take your land to give it to private companies. The private companies should pay what it takes to get it. "Creating jobs" is not good enough excuse.

Author

DonnaLadd

Date

2009-03-27T06:45:22-06:00
ID

145169

Comment

J.T., The whole idea sucks I agree but mis-characterizing what the issue is doesn't help. Private industry can't seize your property through eminent domain it's the government that can and then transfer the property to a private entity to raise the tax base of the community. This is the government acting as the bully here not some corporation. This shows what hypocrites Haley Barbour and the republicans who support this are when they talk about limiting the government's power and how they believe in the free market. How can they even deny they are nothing more than agents of big business?

Author

WMartin

Date

2009-03-27T06:52:06-06:00
ID

145171

Comment

It is the government being the bully, WMartin—at the best of private corporations. In other words, I agree with every word, as well as J.T.'s point. She is correct, in effect, especially when you have someone in the pockets of so many corporations as one of the nation's highest-paid (former) lobbyists. This is an issue that progressives and (real) conservatives can agree on. Barbour is showing his true colors on this one.

Author

DonnaLadd

Date

2009-03-27T06:58:05-06:00
ID

145173

Comment

The private companies should pay what it takes to get it. Exactly right. That is the market at work and that is what Haley Barbour and his so called "conservative" henchmen are subverting. How they can go around the price set by the market by using the term "fair market value" defies logic in my opinion. A fair market doesn't use the power of the government to make you an offer you can't refuse.

Author

WMartin

Date

2009-03-27T07:16:12-06:00
ID

145178

Comment

And how we were fooled into thinking that Republicans stood for property rights. I guess they are--until big-money developers want it.

Author

golden eagle

Date

2009-03-27T08:18:15-06:00
ID

145179

Comment

There's nothing wrong with wanting to redevelop property, but it's wrong to just take it without fair market compensation. That's where you (and so many others) are WAY off base. A landowner DOES get fair market compensation. I have had a natural gas pipeline come across my land. They get a right of way based on eminent domain. Guess what? You get fair market value for that right of way. If you don't agree, they can take you to court and the jury can determine fair market value. The current system works. Don't let the legislature $crew it up.

Author

QB

Date

2009-03-27T08:20:51-06:00
ID

145180

Comment

Fat Harry, we're not talking about using eminent domain for public uses, which is exactly what's happening with your land. We're talking about taking PRIVATE property for PRIVATE businesses uses, which is what the bill intended to prevent.

Author

Ronni_Mott

Date

2009-03-27T08:33:59-06:00
ID

145185

Comment

There's a good story about the legislative fight on Forbes.com this morning: Sen. Chris McDaniel, R-Ellisville, said property rights are sacred and people should not fear that their land will be taken against their wishes and without fair compensation. "Make no mistake about this - it allows those with disproportionate power to take from those who do not share in that power," said McDaniel, an attorney. ... Overriding a governor's veto takes a two-thirds majority in both chambers of the Legislature. On Tuesday, the House voted 101-19 to override. That was significantly beyond the 80 votes needed. On Thursday, 28 senators voted to override and 22 voted against the attempt. Those trying to reverse the governor's decision were six votes short of the two-thirds margin. People on both sides of the issue packed the Senate balconies to watch the three-hour debate, including several farmers who fought the governor's position. Sen. Cindy Hyde-Smith, D-Brookhaven, argued strongly to override Barbour's veto. She said any lawmaker who votes against property rights will ignite the ire of voters. "You need to get you a pair of asbestos underwear," Hyde-Smith told those supporting the governor. "You're going to need it because somebody is going to light up your rear end."

Author

Ronni_Mott

Date

2009-03-27T09:04:15-06:00
ID

145186

Comment

Fat Harry, past legislature did "screw it up." This legislative attempt was to "unscrew it" and the Governor vetoed it. My belief is Yes to real eminent domain--govt taking land for public use like roads and bridges and pipelines, etc., that's for public use. My belife is No to pseudo-eminent domain--govt taking private land from one individual and giving it to another private entity so the latter private entity can make money in a plant or industry. That is the issue here.

Author

J.T.

Date

2009-03-27T09:18:09-06:00
ID

145187

Comment

Sens. McDaniel and Hyde-Smith are correct on this issue. It's great to see two lawmakers on opposite ends of the political spectrum come together on an issue. I love Sen. Hyde-Smith's quote at the end.

Author

golden eagle

Date

2009-03-27T09:22:10-06:00
ID

145197

Comment

Me too Golden, we need to remember to make sure they feel the heat when it comes 'round election time. ;-)

Author

WMartin

Date

2009-03-27T12:27:00-06:00
More like this story