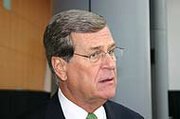 The Associated Press is reporting that former Sen. Trent Lott is redirecting leftover campaign millions to lawmakers who can help his new high-profile lobbying clients—and it's legal:
Trent Lott had nearly $1.3 million in political donations left over when he quit the Senate to become a lobbyist. Now the former majority leader is doling it out to lawmakers who hold sway over his clients. It's perfectly legal, and Lott is hardly the first to distribute unused campaign cash to former colleagues. But his giving is drawing attention thanks to the magnitude of his campaign account and the high-profile matters he has been hired to promote, including the proposed Delta-Northwest airline merger and Northrop Grumman's contested $35 billion Air Force tanker contract.
"The purpose of it really is to benefit Trent Lott's personal lobbying business at this point. There is no other benefit at all," said Craig Holman, who lobbies for tighter campaign finance rules for Public Citizen.
Under congressional rules, campaign committees for former lawmakers - including those who retire, die or lose elections - are allowed to use leftover money for a variety of purposes so long as it is not spent for personal benefit. Lott says he's just supporting like-minded Republicans.
Previous Comments
ID

118915

Comment

Wonder what Democrat John Breaux is doing...hmmm. "and Lott is hardly the first to distribute unused campaign cash to former colleagues."

Author

QB

Date

2008-04-25T07:32:16-06:00
ID

118916

Comment

Do you know what Breaux is doing, or if it's the same thing? Please post a link if you have one. It wasn't in that story.

Author

DonnaLadd

Date

2008-04-25T08:17:36-06:00
ID

118917

Comment

Wonder what Democrat John Breaux is doing...hmmm. Well, we could Google it. ;-) Looks like the USA TODAY piece talks about that... So far, the contributions have been on par with those of some other ex-lawmakers who are now lobbying. Lott's partner, Breaux, for example, spent the last of his old campaign account last year with $35,500 in political contributions. But Lott still had about $1.1 million remaining as of March 31, and he makes no secret of his plans to continue giving much of it away to lawmakers he's likely to be lobbying.

Author

Todd Stauffer

Date

2008-04-25T08:33:21-06:00
ID

118919

Comment

I believe Lott and Breaux created their own lobbying operation. That will be one powerful lobby!

Author

QB

Date

2008-04-25T09:58:41-06:00
ID

118922

Comment

http://www.breauxlott.com/

Author

Todd Stauffer

Date

2008-04-25T10:43:59-06:00
More like this story