Recent Commentary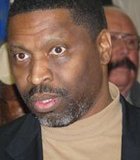 Education
In an election year where the question of our nation's fiscal future is front and center, we cannot forget that the educational progress of our nation's children is pivotal for ...
Your Turn
Recently, critics have argued that the tax-exempt status of the NAACP should be withdrawn because of attacks that the leadership made upon President Bush and the Republican Party. But those ...
Justice
President, Mississippi NAACP
"60 Minutes" seemed intent on making the point that African Americans within Pickering's hometown know best about Pickering's qualifications for the appellate court, and that their support is revealing: "Pickering ...