Though in Boston during the first people's assembly on Nov. 28, Mayor Chokwe Antar Lumumba emphasizes that the gatherings are independent of whomever is in office because they focus on the people's power.
Stories this photo appears in:
City & County
There's never a slow news week in Jackson, Miss., and last week was no exception. Here are the local stories JFP reporters brought you in case you missed them.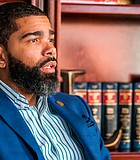 City & County
Many locals joke that when Mayor Chokwe Antar Lumumba took office six months ago, so did they, echoing his slogan: "When I become mayor, you become mayor."