This house on Wainwright Street, like more than 3,000 other properties across Jackson, is owned by the State of Mississippi. It was forfeited in 2012 after owners accumulated four years of unpaid property taxes.
Stories this photo appears in: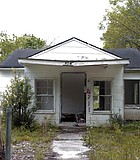 Cover
JPD Chief Lee Vance is frustrated at the State for owning so much crumbling housing in Jackson but is glad that his department is helping to bring it down.