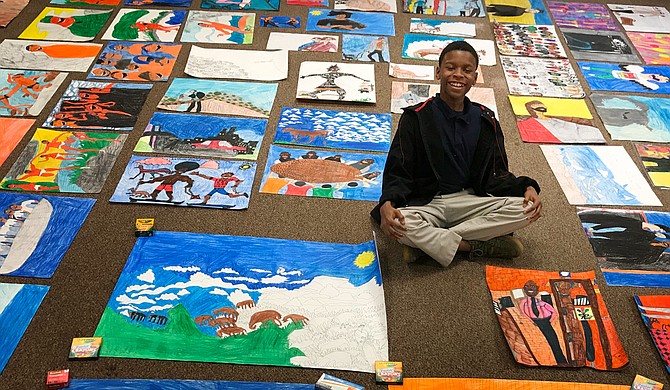 Midtown comic-book and record store Offbeat is hosting an art show featuring Julius Paige, an eighth-grade student in the special-education program at Siwell Middle School in Jackson, for the month of May.
Paige's exhibition, "A Young Man's Show," displays about 40 pieces of artwork that he has created over the past 18 months, all of which are for sale with proceeds going to a fund for his education.
"Julius has already sold seven of the works that he put on display," Cassandre Connolly, Paige's art teacher at Siwell, told the Jackson Free Press. "It's wonderful that Offbeat provides a great platform for emerging artists of color like Julius. I've been at Siwell for three years, and Julius has come to me about his art every day. This is the first time he's done an art show, and he's so excited about it."
Paige, 13, is the son of Jackson resident Ricky Paige and Flora resident Jannifer Evans, and has five siblings. Drawing makes him feel comfortable, Julius told the Jackson Free Press, with his favorite subjects being people, dogs, houses and kites. He also enjoys flying kites, as well as taking photos of houses and recording videos at home.
"I first noticed that Julius was interested in art when he was 5 and drawing all the time when he was at Woodville Heights Elementary," Evans said. "I didn't quite realize how good he was until he got into Miss Connolly's class at Siwell. She pushed him in the right direction and showed me that he has a gift, and now Julius has an opportunity to show off his talent."
Artists such as Jean-Michel Basquiat, Ai Weiwei, Pablo Picasso and Yue Minjun began to inspire Paige's work after Connolly introduced him to their styles through a program she created at Siwell called heART Library, which collects art books from around the world.
"Out of those artists, Julius gravitated especially toward Basquiat because he was a young African American artist who drew in a childlike way, so Julius could relate to him and tried to emulate his pictures," Connolly said. "My vision as a teacher is that creativity builds confidence, and throughout the time I've watched Julius grow as an artist, he's developed people skills and appreciation for his talents. He's also created a dynamic in the school that celebrates all artists. As his teacher, I feel like having someone like Julius is something that reminds an educator of their purpose."
Offbeat (151 Wesley Ave.) will host a closing celebration for Paige's art show on Thursday, May 24, from 5:30 p.m. to 7:30 p.m. The Southern Poverty Law Center is sponsoring the event, and will also provide pizza and soda for visitors. For more information, call 601-376-9404, visit offbeatjxn.com or find the event on Facebook.
More like this story
Like independent media outlets around the world, the Jackson Free Press works hard to produce important content on a limited budget. We'd love your help! Become a JFP VIP member today and/or donate to our journalism fund. Thanks for considering a JFP VIP membership or one-time support.