In a rehearsal at Salsa Mississippi, nearly 30 girls line up in the dance studio, walking down the floor as though it was a runway. A live audience will soon replace the studio's large mirror at the annual Mississippi Fashion Week April 6-9.
The theme this year is "Fashion Solidified," as the event aims to solidify Mississippi's fashion scene and creating a foundation for it. Founder and Creative Director Ryan Martin says the organizers chose a theme that embodied the purpose of the show.
"We're trying to make sure that Mississippi Fashion Week becomes that destination for southern designers when they want to reach a bigger market," Martin says.
For him, the goal of the fashion show is to help promote and celebrate local designers and boutiques. It also provides an outlet for people with a passion for the fashion industry who may fit into it in other ways.
Martin founded Mississippi Fashion Week from the idea to fulfill the need of many local designers and models. Martin says having a unified event allows businesses the chance to showcase their work without having to do a full show on their own.
"It's always a delicate line that you have to walk when you're trying to merge fashion and commerce," he says. "I think what Mississippi Fashion Week has done and what we work to continue to do is bring revenue into Mississippi in terms of boutiques and designers but also to bring credibility to their work."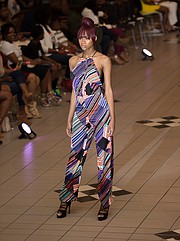 Twelve fashion designers will present their work at the fashion show. Merc B Williams will host, along with singer and actress Charence Higgins.
Kiara Belle says the Mississippi Fashion Week is a chance for all creatives involved to expand past the week.
"Mississippi Fashion Week is definitely educational. It's not just about modeling, we're talking we're engaging," she says. "(The models) are mixing and mingling they're talking to the designers. We're all working together."
While it does allow those in the local fashion industry to showcase their work, the week will be filled with events to get the public interested in the local businesses such as the grand opening of Shop Fashion Week on April 6 at 1 p.m. in Metrocenter Mall (3645 Highway 80 W.), Shop Local Saturday on April 8 starting at 11 a.m., with events at shops throughout Jackson, and the finale being the spring fashion show on April 9.
Martin and Belle agree they want the event to encourage Mississippians to shop and invest in local designers and boutiques. Martin hopes Mississippi Fashion Week is a place where all can come and gain from. "We want their work to carry a level of credibility when working with Mississippi Fashion Week so that way they are able to gain nationwide recognition that I think they're so deserving of," he says.
Mississippi Fashion Week is April 6-9. For more information, visit mississippifashionweek.com.