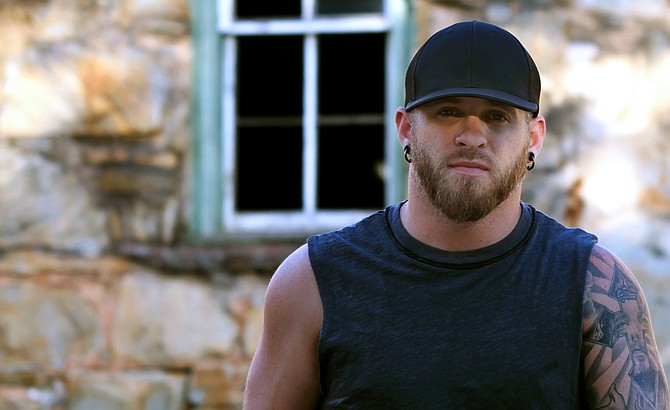 For several years now, Brantley Gilbert has been a big name in the world of country music.
The Jefferson, Ga., native's tours are massive national affairs; his previous two albums, 2010's "Halfway to Heaven" and 2014's "Just As I Am," have both sold more than a million copies; and many of his singles, including "Bottoms Up," "One Hell of an Amen" and "The Weekend," have become country radio essentials. However, even through the big sound, big stages and big success, Gilbert says the core of his music has always been sharing chapters of his life with complete honesty.
He is currently touring in support of his fourth album, "The Devil Don't Sleep," which he released on Jan. 27. The Jackson Free Press spoke to him over the phone before his upcoming stop in Jackson.
There was about a three-year gap between your last record, "Just As I Am," and "The Devil Don't Sleep." What made you say now was the right time for something new?
You know, every record up to this point—this one included—has been a chapter of my life. I always try my best to share the good, the bad and the ugly, and on this one, it's the most positive record we've released, contrary to the title. And to be honest with you, I think I was waiting on a little more ugly to happen.
... Getting married was a huge thing, and me and my wife have a very long history of 13 years, kind of off and on. She's had songs written about her in the past: "You Don't Know Her Like I Do," which was our second No. 1 hit. You know, we've got a long history, so that story is in there pretty heavy. It kind of covers the stormy part of that chapter into where she comes back into the picture.
What would you say is the biggest difference in how you approached the new album compared to past records?
I'll be completely honest with you: A lot of it was the same. I'm kind of on that, "Well, if it ain't broke," you know what I mean? But I had a little more fun as a songwriter on this one. Every record, I try to extend my boundaries a little bit, and I feel like I did that on this and had a lot of fun as a writer. I tried some new things. I wrote with some tracks, wrote with some new writers, and just had a ball with it.
You know, we had enough time to where I could do it both ways (more similar to "Just As I Am" and more diverse). It didn't have to be one way or the other. I'm not one, obviously, to rush a record. There's always time to circle back and get what you ain't got if you need to.
What's something that you learned from making "Just As I Am" that you brought into "The Devil Don't Sleep"?
Man, it seems like every record, I lean on my producer more. Dann Huff produced this record, and he's just an amazing man. You can check his rap sheet. It's longer than my criminal history. [Laughs] I mean, this guy, he knows what he's doing, and in the past, he'll tell you, I didn't really trust the system, I guess, when it came to Nashville. Even labels and managers and all that, I didn't want anything to do with it.
But with every record, I've learned to be a little less hands-on, and not in a bad way. I've been a co-producer on every record, but I've really been standing over his shoulder, kind of throwing ideas back and forth. On this one, I still gave my ideas, but I knew going in, we really prepared for this record. We had it laid out. We walked in the door, and I really let him do his thing on this album, and it turned out amazing.
While there's also a deluxe edition, the standard version of "The Devil Don't Sleep" has 16 songs. Why did you decide to do that instead of holding onto some for a later release?
You know what, man? I've been through this with my label (Big Machine Records) and my management for a while. [Laughs] I guess when you wait three years to put a record out, you've got to come with a lot on the table.
They can't be too upset—with "Just As I Am" and now "The Devil Don't Sleep," both reached No. 1 on the country charts and No. 2 on the Billboard 200. What was it like to see the album get that immediate attention?
It was amazing. With this day and age, you really don't know what to expect when putting an album out because it's all over the place. We've seen it consistently be downhill for everybody in the business, you know, compared to what they did on the last record. It did the same for us, but still, we've had wonderful success, and it's one of those where you've just got to sit back for about five seconds and say, "All right. We did that one right. Now, let's get back to work."
You've had a lot of singles and album tracks perform well. When you're writing, what is it about a song idea that tells you that it has potential to be something big?
Man, to be completely honest, I tell a story. I write a chapter of my life, and more and more, the label's given me a lot of creative control on the records when it comes to writing and when it comes to picking songs. When it comes to picking singles, I rely on a lot of research, and the label does a lot of that. Then, my manager and I, and the president (and CEO) of our label, Scott Borchetta, we all make an educated decision based on research, based on gut feeling and based on their experience.
You know, man, I'm one of those guys where I know what I know, and I don't know what I don't know. [Laughs] I'm not going to pretend to be better at picking singles than I am. I have no idea what the format's doing or what it's looking for. I value the opinions of the guys who are in this thing with me, and we run that way.
Brantley Gilbert performs at 7 p.m., Friday, March 17, at Mississippi Coliseum (1207 Mississippi St.). Tucker Beathard, Luke Combs and Brian Davis also perform. Tickets range from $26 to $125. For more information, visit brantleygilbert.com.
More like this story
More stories by this author
Like independent media outlets around the world, the Jackson Free Press works hard to produce important content on a limited budget. We'd love your help! Become a JFP VIP member today and/or donate to our journalism fund. Thanks for considering a JFP VIP membership or one-time support.