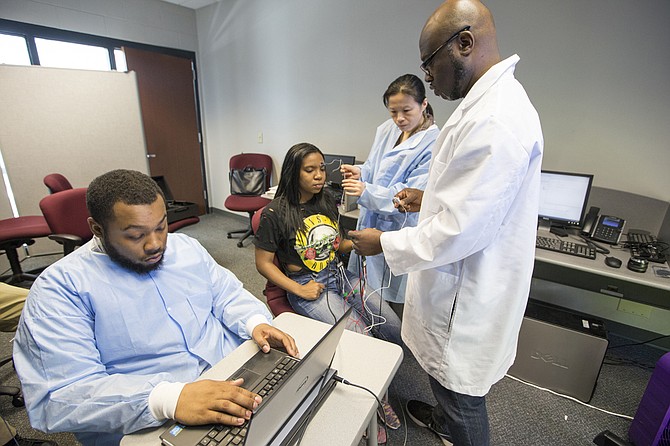 The image can cause a double take. Students and faculty members sit in front of a large projection screen staring at pictures of Donald Trump and then a Black Lives Matter protest in the research lab of Jackson State University's political science department. Wires connect their fingers, foreheads and torsos to a device that looks like a polygraph, with a laptop recording every slight movement.
Participants have no time to reflect: pictures pop up for a matter of seconds followed by a blank white screen. The process repeats for a few more minutes, and then the testing is finished. The results will show just how much unconscious biases inform how the subjects see events in the contemporary political scene.
Byron D'Andra Orey, a JSU political science professor, conducts the experiments, which represent a burgeoning area of study known as "biopolitics," a field examining the intersection of biology and political behavior. The National Science Foundation provided $410,000 in grants to help the department study the physical effects of racially provocative material.
Harvard and the Massachusetts Institute of Technology also do biopolitics research; however, JSU has the only program focusing exclusively on studying the effects of internalized racism in African Americans.
That is, Orey is looking for what can cause a black person to be biased against people of their own race.
Racially Traumatic Events
Orey, an author of multiple academic articles on racial attitudes, took an interest in the new field of biopolitics during his stint at the University of Nebraska-Lincoln, a leader in biopolitics research, when he learned of his associates' research on genetic predisposition to political leanings in fraternal and identical twins. "We found that 82 percent of variance (differences in attitudes) was explained by environmental factors," Orey said at the lab.
That finding served as Orey's backdrop for his future research, as did the thesis of the 2009 book "Us Against Them: Ethnocentric Foundations of American Opinion," by Donald R. Kinder and Cindy D. Kam. The authors posited that people have a predisposition to ethnocentrism, which has important political ramifications.
But it was a series of shooting deaths of several unarmed African Americans from 2014 to 2015 that led Orey to wonder about issues of imagery and harm.
"When these police shootings started happening, I wondered how seeing this stuff every day would impact an African American," he said. "And just to see the rage with Ferguson, I was suggesting that rage could've been expressed through physiological responses."
Orey refers to events such as police shootings as "Racially Traumatic Stressful Events," or RTSE, which combines terms from psychology, "race-based trauma" and post-traumatic stress disorder.
Orey, a Jackson native, later submitted a two-page white paper to the National Science Foundation for a RAPID grant, which funds research of an urgent nature. "When I got ready to submit it, someone was killed in Wisconsin, and that gave me the opportunity to get funding," Orey said. "So, I was really depending on someone getting killing ... which is bad."
The department's study of RTSE involves participants being hooked up to an apparatus that observes electrodermal activity (discharge of sweat), EKG/ECG (heart rate) and emotions (electromyography), namely anger, while looking at images of police violence, protester violence and symbols like the Confederate flag.
The study only looks at African Americans, but it examines two sets of attitudes. "We look at racial identity, those who have strong racial identities relative those with low racial identity. We also look at those with resentment toward blacks," he said.
At the moment, the study uses the student body, faculty and staff as a convenient sample, but is beginning to make use of its call center to gather subjects beyond the confines of the university to determine biases they might not know they have, including against fellow African Americans.
Shoot or No Shoot
Orey is currently evaluating the effect of implicit racial biases in shooting scenarios. Conducted along with criminal-justice professor Yu Zhang, the experiment gives participants a more active role to show how bias can manifest in real-world situations. Equipped with an empty 9mm Glock, subjects participate in an online law-enforcement simulation to determine if they are more inclined to shoot black people quicker than they would whites.
"We also have them hooked up physiologically to see if when they see that black, do they respond in terms of having negative stereotypes. They could have a physiological response immediately," Orey said.
To help mitigate adverse responses to African American imagery, one group of participants will undergo exercises in cultural competency. Currently, participants view historic images of African American stereotypes and how they evolved to help infuse a stronger racial identity, but Orey is planning for a more sophisticated approach in future courses. In essence, Orey wants to learn how positive cultural/racial reinforcement through education can help lessen internalized racism. He is studying what would prevent participants from having an immediate negative reaction to a black person when confronted with a life-or-death situation involving a gun.
The next step is creating a module to test cultural competency. "You give the subjects all this positive material on African American success, whatever that may look like, and see if that impacts their implicit biases," Orey said. Psychology consultants will help create methods to increase group competency levels. Another set of students will not undergo the course, serving as the study's control group.
Orey will give a subconscious bias test to both groups to determine racial biases and to see how effective the cultural competency course is in reducing them. Seeking to add more realism to the participants' experience, the study will use 3-D googles, allowing for a more immersive interaction.
Reflection on Bias
The significance of the studies is not lost on student participants, as it has helped them reflect on their own biases. "I was really shocked to learn that I had a slight preference for Caucasian people," junior biology major Kenya Johnson said.
"I never thought that I had a preference for the (white) race, but when you think about the things in social media, or you think about the things that we learn about in classes, I feel like we're sort of wired to think that way."
Even though multiple students voiced concerns about social conditioning that leads to anti-black bias, the historically black college and university environment can help diminish the prejudice.
"One thing that working with Dr. Orey and going to Jackson State has taught me is that I'm 100 percent positive that my biases aren't what they were 10 years ago," senior business administration major Sean Winn said. "I realize success looks a million different ways. People can be contributing members of society and look and have whatever skin color or hair texture."
Orey has preliminary empirical findings, and hopes to have the discoveries published in top-tier political-science journals as soon as his team collects information from larger samples. Orey wants to move in the direction of focusing on mental- and physical-health issues that may result from exposure to certain events and images.