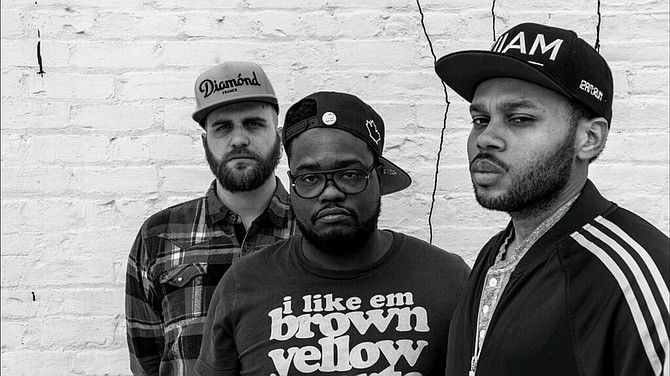 Iconic hip-hop act A Tribe Called Quest surprised many longtime listeners in late 2015 when the group seemingly began ramping up for a full return. There was a TV performance, a reissue of Tribe's debut album, 1990's "People's Instinctive Travels and the Paths of Rhythm," and then there were rumblings of something even more exciting—the group was working on its first new album in almost two decades.
That excitement shifted to sadness after Malik Taylor, better known as Phife Dawg, died from diabetes in March 2016. In honor of Taylor, producer Kamaal Ibn John Fareed, better known as Q-Tip, finished the group's final album, "We Got It from Here... Thank You 4 Your Service," and released it in November 2016.
Through all the emotional highs and lows of the last few years, Tribe's music has taken on new life in the South through New Orleans-based tribute band The Low End Theory Players.
Musician Derrick Freeman first started the act in October 2015 as a one-night costume-party band featuring emcee Matthew Zarba, better known as M@ Peoples, and members of Freeman's funk group, Smokers World, and funk-electronic act Gravity A, as well as Julian Gosin, who will not be at the band's Jackson show.
"What we tend to do is, every Halloween, we usually pick a particular record, or like one year we did all Jay Z songs, one year we did all Madonna songs, one year we did all Pink Floyd songs," Freeman says. "We had the idea to do (Tribe's) 'Midnight Marauders' record, or not even the whole record but hits from the record."
They prepared about six songs from the 1993 album and performed for about 60 people, which they assumed would be the end of it, but the reaction was overwhelming, Freeman says. Even months later, people would ask when they'd be doing a Tribe tribute show again, so the group decided to go bigger, performing a 20-song set at New Orleans bar Tipitina's last year. About 600 people attended—nearly full capacity, Freeman says.
While the response was unexpected, the Players didn't choose to emulate the hip-hop legends flippantly. Even before Phife Dawg's death, Freeman says he understood the weight of standing in the shoes of Tribe's head emcee, as he had grown up with the group's music as a major influence, despite focusing on jazz in his early days.
"The musicality of their hip-hop, the jazzy elements of their music, always intrigued me and (many) musicians," Freeman says. "Tribe was one of those hip-hop bands that musicians were always intrigued by because they sampled from jazz records, and they kind of understood forms of music better than a lot of rap producers did back in their time."
While The Low End Theory Players have performed more frequently in recent months, Freeman says that won't usually be the case, and not just because the musicians are focused on their other projects. Recently, Fareed and the other remaining Tribe members, Ali Shaheed Muhammad and Jacobi White, have been touring more often, which could mean the Players' days are numbered. In comparison, Freeman points to another New Orleans tribute band, Sabotage, which also features many of his band mates.
"(Sabotage is) an extremely unique thing because you know you're never going to see the Beastie Boys again," he says. "You will see Tribe again shortly. So we don't know about the longevity of it. Is Tribe going on tour going to help us, or is it going to kill us? We don't really know."
The Low End Theory Players perform at 10 p.m., Saturday, April 15, at Martin's Restaurant & Bar (214 S. State St.). For more information, visit martinslounge.net.
More like this story
More stories by this author