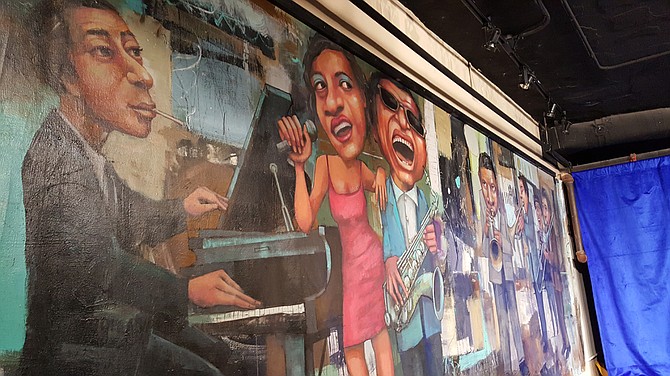 For all of Mississippi's storied blues history, Michael Rejebian can't pinpoint many destinations for live blues in downtown Jackson, which has been his home for the past decade.
"If you're coming from Indiana, and you're at the King Edward Hotel," he says, "you expect to be able to walk out of your room and hear the blues whenever you want ... (but) it's not as prevalent as you might imagine."
So the former political consultant and journalist teamed up with Mike McRee to re-open Underground 119, the subterranean club that is just steps from the Governor's Mansion. This time, the bar has re-made itself info a no-frills blues destination.
"I think when it closed, it kind of had lost its personality," Rejebian says. "There wasn't a lot of consistency, so you didn't really know what you were going to get when you came in, as far as music."
Underground 119 enjoyed its soft opening on the last full weekend in March, and will be opening its refurbished doors to tourists and locals alike in the month of April with a full slate of the area's best blues acts, including regular performances from Jesse Robinson and Friends.
Underground 119 also boasts a renovated interior, an overhauled menu, and—most obvious to newcomers—a newly lit facade that washes the building in blues when the sun goes down each night.
"If you're coming over the Pearl Street bridge, just look for the blue building to the right," Rejebian says.
The new menu focuses on dishes that people can share out of a basket (including the rotating dessert feature, the aptly named "Pie in a Basket"). The names, however, reflect the new ownership's interest in educating customers about downtown Jackson's rich history. For example, the menu features "Malaco Catfish Po' Boy," which is named after legendary Jackson recording studio Malaco Records.
"We want to be ... ambassadors for downtown," Rejebian says. "If people have questions, if they see a name and say, 'What is that?,' our servers are well-versed enough to explain the history behind it."
Some signs of Underground 119's previous iteration remain, from the colorful mural on the front wall to the old house piano's glass top, which has been repurposed as a cocktail table.
A few big changes mark Underground 119 as a new space: The stage has been moved up front; a new deck supplants the side parking lot as a smoking section; and a state-of-the-art sound system engulfs the bar in live music, inside and out.
The new cosmetic touches are secondary to Underground 119's mission to bring the blues to the masses. The bar is off to a fast start, with all but a handful of dates booked through June. Each Thursday, for example, local legend Jesse Robinson will perform a set as the artist in residence. Musicians such as Jamell Richardson, Southern Komfort Brass Band and the King Edward Blues Band will also play at the venue.
"I hope people just realize that blues is part of who we are," Rejebian says, "and we should try to enjoy that."
Underground 119 (119 S. President St.) is open Thursday from 5 p.m. to 
11 p.m., Friday from 5 p.m. to 2 a.m. and Saturday from 8 a.m. to 2 a.m. Thursday nights have no cover charge, and the cover on Fridays and Saturdays is $10.