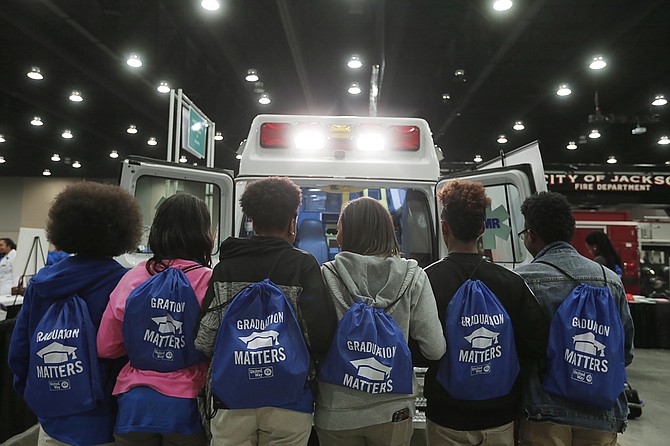 JACKSON — The Jackson Convention Center was a hive of activity on Nov. 16, with swarms of Jackson Public Schools ninth graders touring multiple kiosks for jobs and educational opportunities in a variety of professional fields.
The expo is intended to give JPS ninth graders a taste of the working world. Hospitals, schools and local businesses operated interactive kiosks. Alignment Jackson, a nonprofit organization that facilitates communication and partnership between Jackson businesses and the public school district, partially sponsored the event.
Students interested in the medical field could learn to take blood pressure and soothe crying babies; culinary-minded students rolled dough and made biscuits; students could even examine soil and try produce grown at Foot Print Farms in Jackson. Dozens of other kiosks focusing on media, science, technology, engineering and math (STEM), and construction filled the convention center.
Jessica Fleming, communications coordinator at Alignment Jackson, says her organization pulled out the stops contacting any organization they could think of to set up at the career expo. The diversity was important.
"The kids that are there won't all do the same things," Fleming told the Jackson Free Press. "They're not all going to be lawyers or doctors. We want them to think outside the box and to really find something that speaks to them and that's important to them. It's important to do our due diligence and make sure there was a plethora of things there for them—even things there we normally wouldn't think about (doing)," she said.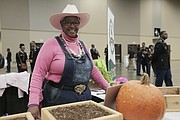 For Murrah High School ninth grader Dillon Briggs, 14, the experience was helpful to him in confirming his future goal of being a travel nurse. He said he appreciated the career expo for having actual professionals there.
"You can just ask the people in the field (what it's like)," he told the Jackson Free Press.
"Most kids don't have this opportunity," his classmate, Milalai Walden, 14, added.
In a press release, JPS said that ever since the implementation of the career expo three years ago, the district has seen an increase in the average daily attendance of freshmen. JPS says the career expo also results in less infractions for offenses that can get a kid sent to alternative school in the district—a critical factor, as interruptions to a student's ninth-grade year make them more likely to drop out of school later, a 2006 Justice Policy Institute report says.
For many students, ninth grade is a pivotal moment in their educational careers. In Mississippi, students can decide to enroll in vocational training starting in that grade. Some larger school-feeder patterns in the state even have ninth-grade schools; for instance, ninth-grade public-school students in Madison attend Rosa Scott High School before moving on to Madison Central High School.
Marlie Lawrence, a nursing instructor at the University of Mississippi Medical Center, said the expo was "invaluable" for students in helping them decide their future careers.
"(In ninth grade) I had no idea what I wanted to do with my life," she told the Jackson Free Press. She said that because she works in a field that the media sometime glamorizes, it's important for kids to attend college and career fairs so that they can see what they really do want to do when they grow up.
"To talk to somebody in the profession and get in the trenches every day, you see the gap between fiction and reality," she said.
Sierra Mannie is an education reporting fellow for the Jackson Free Press and The Hechinger Report. Email sierra@jacksonfreepress.com.
More like this story
Like independent media outlets around the world, the Jackson Free Press works hard to produce important content on a limited budget. We'd love your help! Become a JFP VIP member today and/or donate to our journalism fund. Thanks for considering a JFP VIP membership or one-time support.