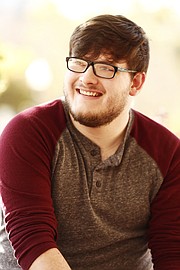 I first experienced some of my early favorite films in the back of a Chevy Suburban headed from Nebraska to Louisiana or Mississippi.
During summers when I was younger, we would drive south for about 950 miles to visit my grandparents, who lived in Baton Rouge, La., and Hattiesburg, Miss.If we didn't stop, it took 15 hours to drive from our home in Omaha to reach either set of grandparents. But as anyone else who grew up with young siblings or has multiple children of their own will tell you, not stopping is rarely an option.
While my mom and dad would sit in the front, listening to music—often Shania Twain, which explains why I still know every word of "I Feel Like a Woman"—my two sisters and I would sprawl out on pillows and blankets on the folded-out backseat, huddling around a portable TV and an endless supply of VHS tapes.
Like many current-generation Jacksonians, I grew up at the tail end of Disney's Gilded Age, so I had plenty of great animated films in my collection. 
 However, one thing that I didn't anticipate seeing in my lifetime was how many of my favorites didn't make the cut alongside "The Little Mermaid," "Aladdin" and "The Lion King" on today's pop-culture syllabus. While the movies on those beloved VHS tapes may not be as well known now, that certainly didn't affect my enjoyment of them in the past, and it hasn't in the present.
As Exhibit A, I submit a quotable tearjerker of a film called "The Fox and the Hound." If you aren't familiar with the story, here's the elevator-pitch synopsis: A fox cub and a hound-dog puppy become fast friends, but over the years, they develop into their roles as hunter and prey, which threatens their bond. The plot is simple—it is a cartoon, after all—but as a kid, I watched that movie, which was already a decade old at that point, on a 12-inch TV screen, and I learned that loyalty matters, that perceived societal roles should never trump your friendships and that it's OK to have faith in people, even if they let you down sometimes. Remember, I was watching a cartoon fox talking to a cartoon dog.
As an adult, I still have a deep respect and love for the magic of movies, though I tend to see them in theaters instead of moving vehicles these days. Of course, if I don't feel like stepping foot in a cinema, I can rent something on iTunes, stream it on Netflix or even go to Kroger, buy a box of Pop-Tarts and come home with a Redbox copy of "Straight Outta Compton."
But even with the many methods we have for viewing films, being a modern moviegoer can be hard, and it's not because the price of popcorn operates on its own inflation scale.
One thing that I know about myself is that I can be critical, even when it comes to the things that I enjoy immensely, including films, music, TV shows, books and just about anything else that can challenge me on an emotional or intellectual level. Between analyzing details of pop-song lyrics and internally rewriting dialog in bad sci-fi movies, that personality trait can be kind of useless at times, but I actually don't mind it. In fact, I sometimes like when my inner critic comes out because judging art based on my initial likes or dislikes is easy. Offering a fully rendered criticism, on the other hand, requires me to look deeper, to ask questions beyond myself and to acknowledge it all, the good and the bad.
One of the reasons that being a movie fan can be difficult today is that we've made a habit of misunderstanding the purpose of criticism. If you don't believe me, search for the term "trailer review" on YouTube and click on almost any of the millions of uploads you'll find.
There are exceptions, of course, wherein the video's creator simply wanted to share his or her excitement with others. But there are also plenty of rants from users who watched a two-minute trailer for a movie that is months from release and have already decided their response to the film itself. What's equally egregious—and something I'm certainly guilty of—is that we can get caught up in that negativity and let it decide whether we will or will not enjoy a work of art.
Now, this isn't a condemnation of critic culture. Within this issue, you'll find plenty of reviews of films that will be playing at this year's Crossroads Film Festival, in fact. The point of those pieces is not to tear down but to build up, to offer truthful, fair opinions of these pieces in the hopes that the artists behind them will be inspired to reach even further in the future. I love reading artistic reviews and follow several writers to hear their thoughts. 
 However, it's important that I don't let their thoughts determine my own. We're people. We have different opinions and different responses to the world around us, and it's OK for our tastes to reflect that.
If you've experienced the Crossroads Film Festival or any of the other great artistic events and institutions in the metro area, from Midfest to the Mississippi Museum of Art to Fondren's First Thursday, then you know that Jacksonians have some incredible artistic work to display. Yet, I think we sometimes take for granted what they have to offer our city. It's easier to cross our arms and approach what we see with cynicism instead of criticism, to point out the flaws instead of celebrating the successes. By all means, be analytical if that's part of who you are, but don't allow that to rob you of the experience or keep you from feeling something. If you want to speak honestly and fairly with the goal of making a positive impact on those around you, learn to leave the pessimism aside and look forward to finding new favorites.
Mixed in with the veterans of the local arts scene, there are always plenty of young directors, writers, actors, painters and musicians whose names you don't already know, people who are sharing their stories for the first time, whether it's in the Crossroads Film Festival or at another like-minded creative outlet. The works that you see might not be what you're used to, but that's the great thing about the unfamiliar—it's all new. You're a kid on a car ride again. You may be surprised by the art that reaches you when you let it.
Music Editor Micah Smith is married to a great lady, has two dog-children named Kirby and Zelda, and plays in the band Empty Atlas. Send gig info to music@jacksonfreepress.com.
More like this story
More stories by this author
Like independent media outlets around the world, the Jackson Free Press works hard to produce important content on a limited budget. We'd love your help! Become a JFP VIP member today and/or donate to our journalism fund. Thanks for considering a JFP VIP membership or one-time support.