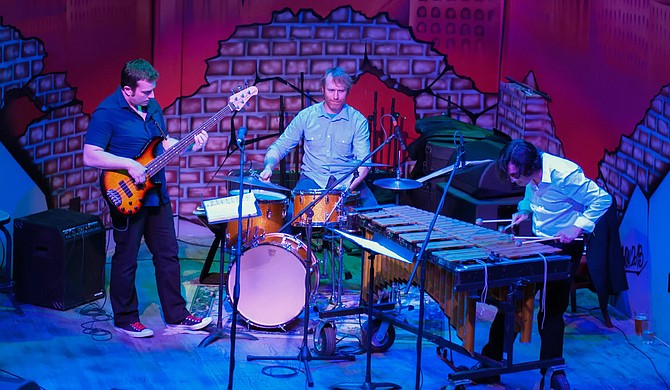 Owen Rockwell was 6 years old when he started playing drums. Lucas Pettey volunteered to learn the bass for his middle-school band. Jason Mathena studied mallet percussion throughout his college career. Then, in 2013, after years of playing with other groups, the three instrumentalists came together to form one of Jackson's most indescribable bands, experimental jazz group The Vibe Doctors.
For Pettey, even that open-ended description doesn't stack up against the band's sound. Despite early days as a light jazz trio, The Vibe Doctors isn't what listeners usually expect from a jazz group, nor does the band play by typical principles of jazz music.
"I think the only reason we need to say 'jazz' these days is so that people don't expect us to have a singer," he says, seated in Fondren's Sneaky Beans, one of the places where the band's journey first began. The coffee shop's owner, Byron Knight, was one of the individuals who spearheaded the group's local popularity. Mathena says Knight was a great asset for their music careers and offered the band some of its first shows. He even engineered The Vibe Doctors' debut self-titled album from Jackson-based record labels Elegant Trainwreck and Homework Town. The band's release show takes place Friday, Sept. 25, at Sneaky Beans.
Leading on the vibraphone—a pedaled percussion instrument similar to a xylophone—Mathena often provides the initial chord changes for most of the band's songs. He recalls the first time that he realized people were enjoying The Vibe Doctors' music.
"I remember looking up as we went some place musically far away, and there were a bunch of people really paying attention," he says. "I was like, 'OK, they're actually into it.'"
Rockwell says the band attempts to keep the groove in a song continual in order to allow for a greater range of motion within the music. The band mates want each other to have musical freedom during performances, reflective of some of their musical influences, which include drummer Brian Blade, pianist Thelonius Monk and jazz trumpeter Miles Davis.
"I think we focus a lot on creating something that's very groove-oriented so that we can stick to the song or go to places that weren't quite written in the song," Rockwell says.
The musicians say that one of the biggest challenges has been trying to establish their audience. Even venue owners are often stumped on what category to place them in. Regardless, the band's style has allowed them to collaborate with other local artists outside of their genre, including Jackson-native hip-hop artist 5th Child, who will perform with the band at its album release show.
"Once you get to a certain point, music becomes a common language, and our instruments are just a vehicle to communicate through," Mathena says. "We can listen to any musician and play like them, but we play it through our instruments."
The musicians say they are open to work with any artist who is like-minded, which in turn helps them create fresh sounds and evolve as a band.
"We don't fit the mold of a lot of traditional groups," Pettey says. "We don't even fit the mold of jazz groups."
The Vibe Doctors' album release show is at 7 p.m., Friday, Sept. 25, at Sneaky Beans (2910 N. State St., 601-487-6349). For more information, visit elegant-trainwreck.com or find the band on Facebook.