Before any meal preparation begins, chef Nick Wallace walks his whole kitchen at Mississippi Museum of Art's The Palette Cafe by Viking. He leaves no cranny of the dry storeroom or refrigerator unexamined, making notes on his pad of paper. He touches every vegetable and protein. He then takes his list of ingredients and begins organizing the day's meals, thinking, "What am I missing?"
Lucky for Wallace, he has made a point of filling his phone with contact information for every farmer he has met over the years. Today, he might need an heirloom turnip or a Guinea hog shoulder. Within minutes, Wallace can drum up a whole market of fresh, locally sourced food.
Wallace learned how to cook from his grandmother Lennell Donald Queen Morris in Edwards, Miss.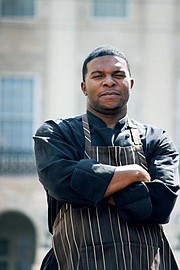 "My grandmother took time with me. She never rushed me through anything. She let me make mistakes, too," Wallace says. "... Being in that environment, the product is just so much better when you naturally let it happen. That's what I like."
Cooking with his grandmother, Wallace learned everything from scratch, from how to extract honey from bee hives to making homemade blueberry preserves. Wallace says that he was the kid that ran around with pieces of bread and a mason jar, all sticky with blackberry jelly. Even today, preserves are among his favorite foods. He devotes a large part of his household refrigerator door to mason jars of colorful preserved fruit.
Wallace says that it was his grandmother who instilled his drive to keep cooking. "You had to want to be there," he says. "She wasn't going to drag you into the kitchen. ... If you wanted to know how to make this biscuit, 'you better be listening, boy. You better be looking at me because if you missed we will be making them again Wednesday.'"
When he was 8, Wallace's parents divorced, and he moved to Lynch Street in Jackson with his mother, Susie Marshall, and sister, Nikki Wallace. He got his start in a professional kitchen at age 14, washing dishes and working the flattop grill at Fernando's on Lake Harbor Drive in Ridgeland.
"It was overwhelming seeing how fast they were using their knives," Wallace says of the chefs there. "When you get your queso, you probably don't realize, but it doesn't take but minutes before your whole fajita is out. That's quick. ... I did everything short of cutting my fingers off."
After 18 stitches and 27 years of traveling as a corporate chef for the Marriott and Hilton hotel chains, including a stint as executive chef at the historic King Edward Hotel, Wallace is now the executive chef at the The Palette Cafe. His focus right now is 'sipp Sourced pop-up events. With his catalogue of farming contacts, Wallace is brings upscale, locally sourced food to the cafe for a few days each month.
In March, Wallace is crafting a menu featuring pork from American Guinea hogs raised at Alderman Farms in Brookhaven.
"It's simple for me, man. There is no other way," he says of his reliance on local foods. "It's a lifestyle. It's like getting up and brushing your teeth every day. It's just something that you have to do. ... People aren't just going to bring me Smucker's and say, 'Hey, have a good day.' That's just not going to work. But that jelly grandma Nana made? ... Now, that's my type of gift, there."
Looking back on his youth and career, Wallace gained experience in cooking on the fly, which comes easy to him now.
"A lot of times (as an executive chef for the Marriott or the Hilton), you might have Tom Hanks coming in tomorrow, and they are only going to call you at 9 o'clock tonight at home to tell you, 'Hey, you got Tom Hanks coming here. Can you make up a menu?' You might (think), 'What the hell?' but that's something you've got to get used to," he says.
"(In Jackson), I had to be able to feed all of my cousins at the drop of a hat. ... It just became easy for me to go into the kitchen and create something magical."
The March 'sipp Sourced offers lunch 11 a.m.-2 p.m. March 19-21, and dinner 5:30-8 p.m. Thursday, March 19, at the Mississippi Museum of Art (380 S. Lamar St., 601-960-1515). For more information and to purchase tickets, visit msmuseumart.org.