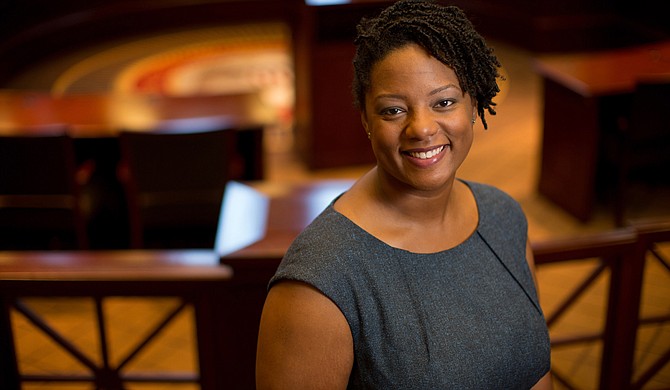 Jessica Smith had only been living in Rankin County for a couple months after moving there with her son, Justin, to get away from an abusive husband. The change of scenery didn't curb her drug use, however, and her husband called the Mississippi Department of Human Services to reclaim custody of their son, Justin.
Smith, whose name—along with that of her son—has been changed for this story, was addicted to crystal meth at the time of her son's birth and continued to use drugs as a way of coping with her abusive spouse, she says. Before his birth, Smith had a normal life as a public-school teacher, but by June 2010, she had stopped working.
Everything came crashing down May 13, 2013. After her husband's complaint to MDHS, Smith was required to take a drug test, which she failed, and child-protection officials took Justin away. Smith was arrested and was told she would have to begin rehabilitation immediately if she wanted Justin back.
During her MDHS intake, Smith testified that her husband had repeatedly abused her, hoping the state would not give Justin, then 2, to her husband. She didn't have the money to hire an attorney to defend herself. If she hadn't been in Rankin County, the odds of reunification with her son would be low.
But Rankin County is one of four counties that run a pilot program for parent representation. Mississippi is the only state in the U.S. that does not statutorily provide attorneys for indigent parents in youth-court proceedings. When the state takes children from their parents, families must seek out legal counsel on their own dime—a cost that is often unthinkable for low-income and working-class families.
Carlyn Hicks, the parental-representation attorney assigned to Rankin County, called Smith before the first hearing. Smith accepted Hicks' offer of representation, wanting to get her son back—and keep him away from her husband.
"I felt so blessed to have somebody who had my back legally and would protect the rights of my son," Smith said.
With Hicks' help, Justin went to live with his grandparents in Picayune and later moved to Smith's sister's home in Pearl River County. These arrangements were contingent on Smith going into a drug-rehab program, and she entered Jacob's Well Recovery Center in Poplarville almost immediately.
Ten months and two programs later, Smith was cleared with MDHS to set up a permanent residence for Justin and her to live. She went back to work as a teacher at a private Christian school and a restaurant. She received two years of probation.
Smith, 30, has had her son back for a little over a year, since May 2014, and plans to divorce her husband this year. She attributes her turnaround and reunification with her son to Hicks' work.
"Carlyn was my advocate when I couldn't be," she said.
A Social and Economic 'Win-Win'
The Mississippi Parent Representation Program launched in 2012 due to the work of Rankin County Court Judge Thomas Broome, retired Adams County Court Judge John Hudson, Forrest County Court Judge Michael W. McPhail and Harrison County Court Judge Margaret Alfonso. The pilot program designates an attorney in the county to take Parent Representation cases, if the family wants it, free of charge.
Hicks said the majority of her cases involve families that cannot afford their own lawyers. Chemical dependency fuels most cases.
"The majority of my cases are meth addicts," Hicks said. "Addictions are illnesses, and I ask, 'How can I help this client get into a rehab facility or treatment facility?'"
Reunification is the goal and the strongest argument in favor of mandated parental representation. "What I've seen is that we've reduced the number of days children remain in care and experienced quicker reunifications," Hicks said.
Hicks has 74 cases open (including counsel and full representation), and 80 is the cap the committee suggests. Hicks has worked on over 200 cases in the past three years.
"About 80 percent of the cases are rooted in socioeconomic disparity, and MDHS is called for things like deplorable conditions of the home or chemical dependency—the majority aren't going to be the 'worst of the worst' cases," Hicks said.
Currently, pilot programs are active in Adams, Forrest, Harrison and Rankin counties. Rankin County Court Judge Thomas Broome said that, so far, the program is working. The presence of an attorney, solely dedicated to parents needing representation, can help families navigate the complicated MDHS hearing processes and legal procedures.
"We have found that if a parent was empowered with knowledge and had somebody advocating on their behalf, and also providing them guidance it would lead to a quicker reunification of the child with the family," Broome said.
"Many, in fact, never result in the child being removed from the family."
The National Council of Juvenile and Family Court Judges conducted a study on Rankin County's program and found that 50 percent of Hicks' cases resulted in dismissed petitions. This number likely represents the importance of having an attorney available to explain procedures to parents. Broome said that some cases can be resolved quickly with the petition dismissed, often if a family leaves an unfit home or a family member leaves the environment.
MDHS information shows 8,378 substantiated cases involving child victims in Mississippi last year. Harrison, DeSoto, Rankin and Hinds are among the counties with the highest number of cases. As of April, 2,697 children were in foster care in Mississippi, MDHS reports.
Broome said the pilot programs are working from a social and an economic standpoint, and he's hoping the Legislature will see the benefits and help fund it.
"Any time that we can keep a child out of foster care or prevent a child from lingering in foster care, that is definitely a financial savings to the taxpayer," Broome said. "But it's also a win-win because the child has less trauma, and (it's) a great way to have somebody on the front end invest time and effort with families, getting them back on the right path."
Broome said the cost of having parent representation is small compared to the cost of children staying in foster care.
"It's a small cost for a big financial win for the state," Broome said. "It's also morally the right thing to do: to try and rectify the parents' problems and reunite the children with their families."
Progress in Small Steps
Expansion is the next step, and Hancock County is rolling out its pilot program now. DeSoto and Lafayette counties have plans to follow, Broome said. Of course, funding is a core developmental problem.
"We believe that we will be able to demonstrate to the Legislature that this is a very advantageous program from an economic standpoint for the state," Broome said, adding that he hopes the state will eventually fund the program.
Currently, the Administrative Office of the Courts and Casey Family Programs funds Mississippi's pilot programs. It is a Seattle-based foundation that works in every state on issues of foster care with an endowment to work free of charge.
Isabel Blanco, a consultant for Casey Family Programs in Mississippi, said her organization is pleased with how strongly the judges support the program in Mississippi.
"Research shows that parent representation helps among other things to expedite permanency, meaning children returning home," Blanco said. "We are interested in the children being able to return home safely when the courts are in favor of that."
The advantage to having a designated attorney in youth court for parent representation is that reunification with families happens faster, ideally meaning a child spends less time away from home.
In the same study done on Rankin County's program, with a relatively small sample, it took about 42 days to get from the petition filing to the adjudication with Hicks' counsel while it took families with no attorney about 71 days. In other words, legal representation cut a month off of "in-limbo" time for cases in the initial phases.
From the petition filing to the case closure, however, the numbers seemed to level off, and it took a family only 20 more days or so to get a case closed without Hicks representing them.
So far, the attorneys and data agree: the program is working.