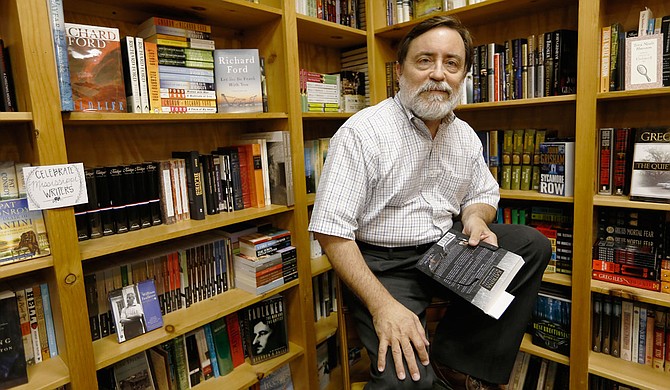 When political consultant and author Jere Nash met his friend Leila Salisbury, director of the University Press of Mississippi, for lunch at Hal & Mal's in the spring of 2013, he didn't see himself walking out of the restaurant with a two-year mission.
At lunch, they came to the topic of Mississippi's crop of excellent authors, which raised an interesting question: Why didn't the state have an event that honors its literary community? That was the basis for the inaugural Mississippi Book Festival, which comes to the State Capitol Saturday, Aug. 22.
"A lot of our sister states do them, and Mississippi has produced a whole lot more authors than (many) other states with successful book fairs," Nash says. "No one had ever put together a day-long event here to celebrate people who write books and those who read them."
After pitching the idea to Lemuria Books owner John Evans with an enthusiastic response, Nash reached out to other individuals and organizations, including the Mississippi Library Commission and the Mississippi Development Authority, to find out if the Mississippi Book Festival would be viable. MDA Tourism Director Malcolm White even offered seed money to bring in book-festival directors from Baton Rouge, La., Little Rock, Ark., and Nashville, Tenn., to help plan.
"It was sort of three phases. First, it was just getting ourselves organized, seeing what the festival would look like," Nash says. "... The next piece was raising the money to pay for all this, and the third piece was deciding which authors to invite. Mississippi has just an unbelievable wealth of authors, and we had to figure out which ones we wanted to feature."
By the end of 2013, Nash established the Mississippi Book Festival as a nonprofit organization and collected a board of directors with literature enthusiasts from around the state, such as Evans, Hattiesburg native food writer Robert St. John and book reviewer Emily Gatlin of Tupelo. The community's excitement was clear. Where the money would come from was not.
In early 2015, the state Legislature agreed to provide $45,000 to kick-start the festival's fundraising through the Mississippi Department of Archives and History and to help the event in future years. However, the funds didn't officially come through until late April 2015, which gave the board just under four months to arrange a large enough venue and a stellar guest list.
"It's caused us all to grow some gray hairs," Nash says, "but so much of this has come together not only quickly but also easily. The folks at the Legislature and the state government have been very generous in letting us use the State Capitol and committee rooms inside the Capitol, as well as the grounds."
Planning the festival's programming also turned out to be relatively easy. Author Greg Iles joined the fray fairly early, then thriller legend John Grisham signed on, then writer William Ferris, and after that, Nash says the remaining guests mostly fell into place. Now, 102 guest writers and 62 self-published authors from Mississippi will be at the festival's 22 panels, which range in focuses from historical non-fiction about the Civil Rights Movement to comic and cartoon writing. The event also attracted the attention of the Library of Congress, which will have a booth to display Mississippi cultural materials such as rare recordings and photographs from its collection.
"We wanted to make the point that Mississippi has produced authors that cover this incredibly wide range of topics, not just literary fiction, not just history and biography, and not just short stories," he says. "All those are obviously important, but there are also authors who've done comics, romance, sports and outdoors, historical fiction, business books and poetry." Nash says the hope is that the Mississippi Book Festival will be successful enough to become an annual event. And with the number of interested authors who weren't able to make it this year, the festival might have an even smoother road in 2016.
Mississippi Book Festival is Saturday, Aug. 22, from 9 a.m. to 5 p.m., at the Mississippi State Capitol (400 High St.). Admission is free. For a full list of authors and panels, visit msbookfestival.com.
Mississippi on the Page
by Micah Smith
The Magnolia State has more than its fair share of authors and books. Here are a few recent highlights.
"One Mississippi, Two Mississippi: Methodists, Murder & the Struggle for Racial Justice in Neshoba County" by Carol V.R. George
(Oxford University Press, 2015, $29.95)
Spinning a web of true stories that spans four decades, George creates a "micro-history" of the Methodist church's struggles amidst a white supremacist-dominated Neshoba County that's every bit as engrossing as it is moving.
"Mississippi Moonshine Politics" by Janice Branch Tracy
(The History Press, 2015, $19.99) A dry state or anything but? Utilizing historical accounts and state records, Tracy dives into the formation of Mississippi's bootleg empire during the state's extended period of Prohibition and the corruption that followed.
"Shoulder Bones" by Mary B. Sellers
(Blooming Twig, 2014, $17.95)
If you had to describe Sellers' collection of short stories in a single word, the best choice would be "complicated." Equal parts eerie, whimsical and reflective, "Shoulder Bones" bottles Mississippi youth and the many complex themes that entails.
"Casey's Last Chance" by Joseph B. Atkins
(Sartoris Literary Group, 2015, $19.95)
Atkins delivers full doses of classic noir in his latest novel about a two-bit hustler turned into a would-be assassin. "Casey's Last Chance" is a vintage-style tale of cops, crooks and those caught in the middle, with a sense of dread that coils tighter at every turn.
"Once in a Lifetime: Reflections of a Mississippi First Lady" by Elise Winters
(University Press of Mississippi, 2015, $28)
Throughout his governorship of Mississippi, William F. Winter changed a number of lives, but none more than that of his wife. The former first lady recounts moments of trial and triumph as she sought to make a difference beyond the customs of her position.
More like this story
More stories by this author
Like independent media outlets around the world, the Jackson Free Press works hard to produce important content on a limited budget. We'd love your help! Become a JFP VIP member today and/or donate to our journalism fund. Thanks for considering a JFP VIP membership or one-time support.