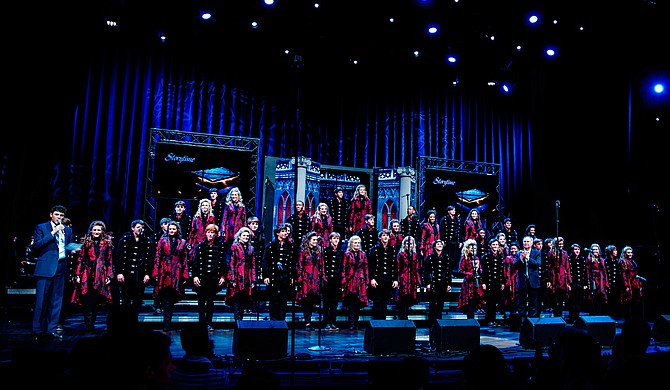 The students of Clinton High School's Attache show choir quietly take their places on the multi-tiered stage of the Hard Rock Live in Orlando, Fla. It's March 14, 2015, and they're gunning for the top spot at the FAME Orlando competition. The singers turn toward the 5,500 seats in the arena and unleash booming harmonies, swiftly gliding past one another into new positions before all motion suddenly stops, and the students stand quiet, still as statues.
The choir sings the sweet, lulling "Once Upon a Dream" from Disney's "Sleeping Beauty," which gives way to an energetic rendition of Blood, Sweat & Tears' 1969 hit, "Spinning Wheel," with equally energetic choreography. Attache's set is hard to pin down, with songs such as Bruno Mars' "Just the Way You Are" and Michael Jackson's "Bad" both making appearances. The diversity is fitting, given the number of personalities who work together to create Attache.
Attache's directors, husband and wife David and Mary Fehr, say the success of the group—which consists of 45 singer-dancers, 19 instrumentalists, and 10 regular crew members—is not the result of a recruitment system nor a rigorous practice schedule. The Fehrs encourage the students to take ownership of the program. Attache members are dedicated to furthering the program and their individual talents. Part of that process is allowing the students to naturally teach one another.
"You don't make leaders by handpicking them and putting them into a leadership workshop," David says. When you do that, he adds, "you've just made a bunch of followers. To develop leaders you have to actually let them lead. ... They have to learn to work together to get it done."
The Fehrs have directed Attache at Clinton High School for 23 years. David creates the musical arrangements for shows, and Mary designs the sets, costumes and print elements, such as posters and programs, and organizes the choir's many trips.
"She's a Fortune 500 company herself," David says.
The directors lead an Attache class during the day, with at least two additional practices a week during the normal school year, which provides enough time to rehearse the next award-winning show.
In total, the group has won 68 national championships over its 35-year run. This year, the choir won first place at the South Central Classic in Homewood, Ala., The Event Show Choir Competition in Glenwood, Ill., and FAME Orlando. Now, Attache is returning home for its Spring Revue April 29 through May 2.
Clinton High School senior and Attache member Hayley DeYoung says people don't realize the quality of shows until they've actually seen a performance. Many of Attache's alumni have gone on to become professional entertainers, including show-choir choreographer April James, who helps coordinate stage movement along with many former Attache' members.
"I've seen a lot of people who say, 'Show choir?' So, I tell people, 'You really don't understand.' ... It's on a different level," she says. "It is like seeing a professional show. The band is just amazing, and you have all the lights and the effects. We, the singers and dancers, go hard the whole time."
The Attache 35th Anniversary Spring Revue is 7:30 p.m. April 29-May 2 at Clinton High School (401 Arrow Drive, Clinton). Attache alumni perform during Friday and Saturday nights' shows. Tickets are $9 to $10; call 601-924-0707 to reserve tickets. For more information, visit attache.org.
More like this story