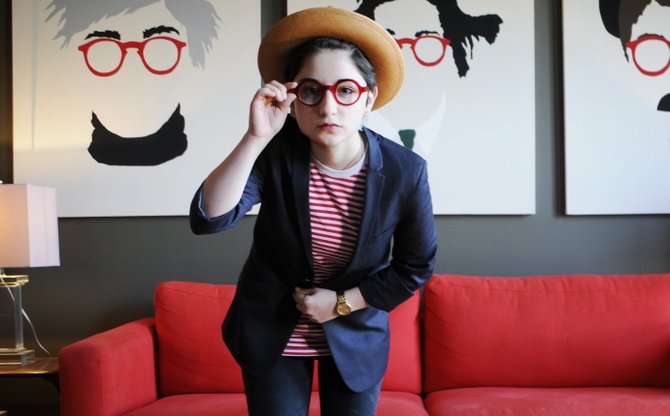 Few things are more vibrant than the portfolio of Jackson-bred graphic artist Avery Nejam.
"It's more of a Warhol form of art, because I'm working commercially, but also I'm working towards tapping into the fine art world and having gallery shows," Nejam said.
Much like Andy Warhol, Nejam, 22, frequently uses elements of American pop culture as her subjects. Her more prominent pieces feature current icons such as Miley Cyrus, Beyonce Knowles, Pharrell Williams and Kanye West.
After Nejam's portrait of "7 Years A Slave" star Lupita N'yongo ended up on the actress's Instagram account, Harper's Bazaar Executive Editor Laura Brown contacted Nejam and asked her to work with the magazine.
In early 2014, Nejam began depicting Harper's Bazaar's "Chic of The Week," recently illustrating Dolly Parton in a Fourth of July get-up that showcases her most famous "features."
Up-and-coming New Orleans rapper Pell even commissioned Nejam to design various promotional materials and artwork for his critically acclaimed album "Floating While Dreaming."
Even with her stripped-down approach to slice-of-life imagery, the important details remain, so there is no question about who or what she is bringing to life with her art. Whether it be the silhouette of Jay-Z's face double-exposed against the New York skyline or the bold, black lines of Twiggy's lashes that cause her glaring eyes to jump right off her photographs, the focal point is evident.
Nejam's inspiration for her art began with her passion for skateboarding, a sport she started at age 5.
"I have always been enamored with the graphic arts scene that goes along with skateboarding," Nejam said.
During that time, Nejam was one of the youngest females participating in the sport in the South. As a teenager, she appeared on MTV's television show, "House of Style," and critics regarded her as "one of the most creative and talented individuals under the age of 18."
After graduating from Jackson Academy in 2010, Nejam studied art in New York City and Boston, Mass., at Parsons New School for Design and The School of the Museum of Fine Arts, Boston. It was during this time that she began wearing her trademark round, red frames.
"I started to notice people recognizing me by my red glasses," Nejam told TheJUNQUI, a fashion, lifestyle and arts website, in February. "'Iconify Me' is my coined ideology that the characteristics that set us apart often become our trademarks."
In May 2012, during a trip to Shanghai, Nejam's plans to continue her artistic ascension came to an unscheduled halt. She became terribly ill, diagnosed with colitis. Later that year, Nejam found out she also has Crohn's Disease.
Despite her setbacks, Nejam has found a way to use adversity to explore a new work ethic. Her turnarounds for many of her Harper's Bazaar assignments are just over 24 hours.
She will team up Aug. 1-14 with Atlanta, Ga., artist Vernon O'Meally for an Instagram-only exhibit. The project, known as, Back 2 Square One, aims to be a tribute to the collaborative square canvas pieces of Andy Warhol and Jean-Michel Basquiat in the early 1980s.
Examples of Nejam's work are spread across her two websites, thecandidobserver.com and averynejam.com, and her Instagram page.
With a fresh take on mainstream culture, Nejam and her images help preserve the beautiful segments of our culture. Her work is a true glance at our world through rose-colored glasses.