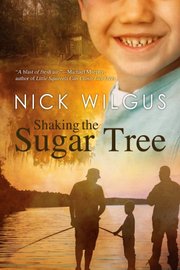 "Butter my butt and call me a biscuit," Rex "Nick" Wilgus says. "I love southern expressions." He's talking about his new book "Shaking the Sugar Tree," a romantic comedy set in Tupelo, and the difficulties in capturing the peculiarities of southern life. Nick, his nom de guerre, is short for Dominic, the name he used while a brother of the Franciscans religious order.
Wilgus was born in Indiana and grew up in Michigan. He arrived in Mississippi three years ago, after spending nearly 20 years in Thailand working in the newspaper industry, as a chief sub-editor for the Bangkok Post. While in Thailand, he wrote several mysteries, including a series about a Buddhist monk named Father Ananda, a former police officer who solves murders. De Warenne Pictures and Tiger Entertainment turned the first book of that series, "Mindfulness and Murder," into a movie, which the Thai Film Association nominated for best screenplay.
I read his most recent book, "Shaking the Sugar Tree," on a flight to and from New Jersey. At times it had me laughing so hard I woke up the drooling drunk who had fallen asleep on my shoulder.
Later, the flight attendant brought me some tissues to wipe my eyes and asked me if I was all right. The book is terribly painful at times—the kind of pain that comes from the helplessness of seeing a parent rejecting a child. It was also hard to read in some places, as it is a gay romantic comedy. The scenes between the two men, while not particularly graphic, put me into a state of cognitive dissonance. I felt this way a few other times in my life when confronting the humanity of people who are unlike me.
The book is about a gay father raising a child on his own, which Wilgus based on a surprising fact. Mississippi has the highest percentage of same-sex couples raising children, reports the Williams Institute, a part of the University of California, Los Angeles Law School.
Wilgus says that this shouldn't be a surprise. "It stands to reason because Mississippi is family-oriented and traditional, and gay people want to get married and raise children like everyone else," he says. "It also might be that gay people are more boring than people realize."
He uses the book to expound on many of the issues that are important to him—not just gay rights but drug abuse, bigotry, and the importance of family and children. He has a particular issue with the American Family Association located in Tupelo, a self-proclaimed a "pro-family" organization that the Southern Poverty Law Center lists as a hate group because of its anti-LGBT actions (see cover story, page 14).
Interestingly, if you search for Wilgus on YouTube, you will find performance videos of his original music, as well as videos that outline many of the issues discussed within the narrative context of "Shaking the Sugar Tree."
The book is also a bit of a spiritual journey for the protagonist as he struggles rearing with a disabled child who was born with a meth addiction, complete hearing loss and emotional difficulties, his past drug use, failures and poor decisions, and rejection from his family, his church and community. He also searches for God and a meaning to life.
Wilgus jokingly says that he does worry about the tracks he's left online as he did research for this book. His past web searches have included inquiries about how to make meth and, for other books, about the best way to murder people.
"I worry that anyone looking at my searches might get the wrong idea," Wilgus says, "and I pray that no one is paying attention."
Nick Wilgus' "Shaking the Sugar Tree" (Dreamspinner Press, 2014, $17.99) is now available in paperback and digital format through Dreamspinner Press and Amazon Digital Services, Inc.