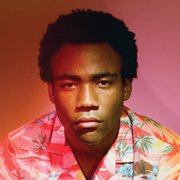 It's difficult to separate the comedic television and movie roles of actor Donald Glover from his unforgiving, guiltlessly pensive persona as rapper Childish Gambino, but his most recent release "Because the Internet" certainly helps cement that divide. While the album has no shortage of humorous moments—Glover is still a comedian at heart—"Because the Internet" is biting, brutal and much less derivative than many rap albums, though its dramatic flair and inventiveness aren't bound to hit the mark with all listeners.
"Because the Internet" runs a lengthy 19 tracks, covering rap music's most-tread topics. From pride in your past to false friends who only stay if the money does, the typical tropes of hip-hop still rear their heads.
However, Glover's best feature is his endlessly creative lyricism, which can wield pop-culture references and puns with the best of them. Couple that with a smooth and speedy delivery of rhymes and a rare skill for meaningful vocal inflection, and even at its worst, "Because the Internet" never feels repetitive or tedious.
Handfuls of sweetly sung R&B refrains and experimental interludes further serve to avoid monotony, and unlike some rappers, Glover's singing voice is pretty solid. After hearing the single "3005," I somewhat expected to see "featuring ..." next to its title, but it's Glover who sings skillfully and earnestly, "No matter what you say or what you do, when I'm alone, I'd rather be with you." In the future, I wouldn't be surprised to see Childish Gambino make an appearance on another artist's track for the sole purpose of singing a chorus. "Telegraph Ave. ("Oakland" by Lloyd)" gives us the record's title and is probably the clearest exemplar of Glover as a multi-tiered vocalist.
As for the humor, it's plentiful and well-placed whenever it's employed. The song "Sweatpants" features some of the best instances of Glover's comedy chops coming into play. As he lists off what makes him the best, he mentions he owns a Fisker and adds, "vroom-vroom." Then he immediately pauses the song to inform the listener, "Fiskers don't make noise when they start up. Just so you know." But my personal favorite line is, "More green than my Whole Foods, and I'm too fly; Jeff Goldblum."
Some listeners might take issue with what feels like a breath of fresh air to me. Glover's songs feature far more layered beats than most rap contains, and the difference may be too off-putting for the unaccustomed consumer. He consistently inserts sound clips of everything from white noise to phone calls and sirens to add a flourish to his beats. While these elements are often low in the mix (certainly less noticeable than Glover's rapping), it's a clutter that isn't often heard in rap music. Some rap songs scarcely feature a single note, let alone a fully written composition of violin, harp and a soloing electric guitar, as is the case in the explosive ending of Childish Gambino's "The Worst Guys."
Ultimately, these additional complexities won't necessarily attract a base of hardcore rap fans, but the added musicianship gives me a greater appreciation for the different talents that Glover delivers as Childish Gambino. His lyrical content is top-notch, his singing voice is effective, and his backing tracks are intricate and imaginative. "Because the Internet" won't likely change the whole of hip-hop, but it does reinforce Childish Gambino as a strong voice for testing the limitations that we've put on rap music.
More like this story
More stories by this author
Like independent media outlets around the world, the Jackson Free Press works hard to produce important content on a limited budget. We'd love your help! Become a JFP VIP member today and/or donate to our journalism fund. Thanks for considering a JFP VIP membership or one-time support.