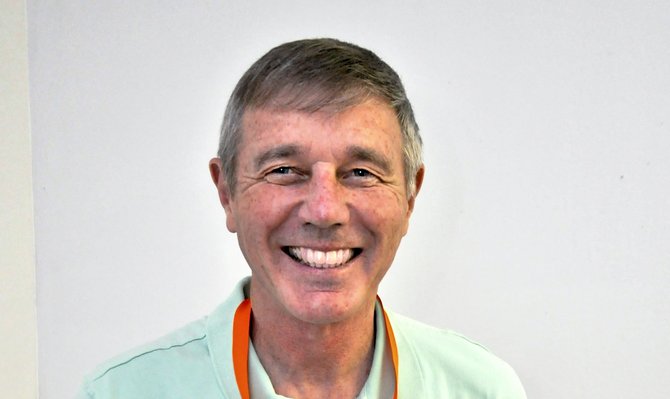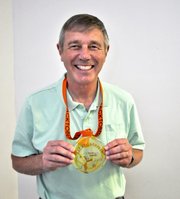 As he is giving me a tour of his warehouse, Fred Ezelle comes to a rather honest reckoning. "I'm going to need some more refrigerators," he says.
Agreed. Ezelle's warehouse, formerly his father's mattress factory, doubles as his place of business and his makeshift laboratory for crafting homemade beer. He has refrigerators spread across the entire complex, filled with liquid yeast, extracts and already-completed brews that are stored in larger containers before being bottled.
In one corner of the warehouse, Ezelle opens up a large, white cooler and shows me a graveyard of green beer bottles, each one devoid of its contents, but still giving off a sweet wheat scent.
"Those are from Jacktoberfest," Ezelle says.
There are 96 empty 16-ounce bottles in the cooler to be exact, but that's to be expected from the two-time People's Choice Winner at Jacktoberfest. "We went through them in an hour and a half," he adds.
Ezelle, 63, has been a Jackson resident for nearly all his life. After graduating from Murrah High School, he skipped down the block to attend Millsaps College. He says he has lived in the Belhaven neighborhood for all except two years.
Things could've been different for Ezelle. He might be living in Houdeng-Goegnies, Belgium, and speaking French right now if it wasn't for a chance encounter between an American major in the army and young Belgian girl during World War II. Robert and Christine, Ezelle's parents, married in 1946, and Christine left home to move to the states.
"She's an amazing lady," Ezelle says of his mother. "When you pick up and leave your home country, going someplace where you have no idea what it's going to be like, that's a tough thing."
His mother, who still lives in Jackson (though his father passed away in 1979), found ways to adapt to American life and hang on to her roots through teaching (she taught French at Millsaps and Belhaven), photography and becoming a kind of family historian—an interest Ezelle definitely inherited.
The second floor of Ezelle's warehouse takes you back in time to early 20th-century Belgium. Some of the furniture and antiques belong to Belgique, Inc., an antique business that he and his wife, Virginia, own, but a good amount of it belongs to Ezelle and his family as sentimental reminders of their Belgian heritage.
In particular, Ezelle pulls out a black-and-white photo from an envelope. In the center is a horse-drawn cart, and around the cart stand Ezelle's grinning ancestors surrounded by barrels of Belgian ale—product of the family business. In the forefront is Arthur Falise, Ezelle's great-grandfather and owner of A. Falise Brasserie in Houdeng-Goegnies, Belgium—a brewery that he operated from the late 19th century until World War I. He sports a thick continental mustache that was popular in Europe during the turn of the century and wears a well-worn "brasseur's" apron.
"This is kind of in my blood," Ezelle says. "It means a lot to me and I enjoy doing it. My family really loves the beer I make, and that's what matters to me."
Ezelle is an accountant/business consultant by trade (who helps out the JFP with financial guidance), and although he knew about his brewing heritage, Ezelle didn't get started making his own homebrews until two years ago when his brother-in-law, Charles McEuen, encouraged him to try his hand at it. After making a batch or two with his brother-in-law, Ezelle decided to strike out on his own to make original concoctions from his own imagination.
"I'm one of these kind of people that once I start doing something, I just jump in and do it," Ezelle says. "I've learned a lot just by trying stuff on my own."
Ezelle had only been brewing for a year when he won the People's Choice Award at the 2012 Jacktoberfest using an ale that he's since named "Belgian Symphony." There's no artful title yet for the 2013 winner, "Experiment #8," but this honey-wheat ale still captured the crowd's attention this year at Jacktoberfest.
"I was very humbled and very proud to have won the People's Choice for the second year," Ezelle says. "To me, that's probably the most important award that you can get. You know you must be doing something right."
So where do these beer recipes come from?
"I don't know how they come to me," Ezelle says. "They just do. Sometimes in the middle of the night."
Call it a brewer's intuition. It also takes a lot of hard work and diligent attentiveness to brewing temperature, environment and measurements—all the things that his great-grandfather was doing a century ago in Belgium.
"I think what you get with homebrewers are beers that you'll never taste anywhere else," Ezelle says. "I think you might have to be a little crazy to be a homebrewer."
Crazy or not, Ezelle is in the process of making his next beer for the Homebrewer's Association of Mid-Mississippi, or HBAMM, competition, another "experiment" ale that he's looking forward to. Whether or not he wins is unimportant to Ezelle—he just enjoys the brewing process and the connection it draws to his ancestral past.
When he's at a competition or brewing from the warehouse, he always keeps a photo of his great-grandfather nearby.
"I always brew with his picture nearby for sentimental value," Ezelle says.
And maybe a little brewing magic as well.
More like this story