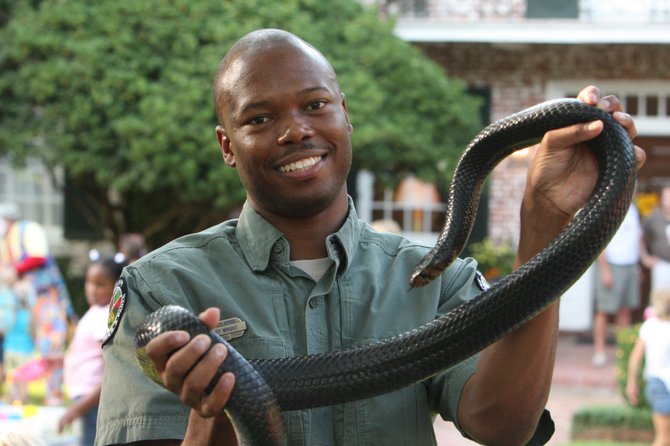 Watching Corey Wright in his element, educating children, is truly a spectacle. When a young girl walked in the room and asked Wright if she could hold a baby alligator, he didn't hesitate and leapt from his seat to an alligator tank nearby.
"How many teeth do you think an alligator has?" Wright asked as he showed the young girl how to properly hold the alligator's tail. "Eighty-two. And do you know how many counties there are in Mississippi? Eighty-two. Now you'll never forget," Wright said.
"I'm just letting her hold an alligator," Wright said, "but that could inspire her to become a marine biologist. You never know the difference you're making in a kid's life."
Wright, 33, never thought he'd be working with kids and the reptiles of Mississippi.
After attending high school at St. Joseph Catholic High School in Madison, the Jackson native turned down an offer to play basketball at Louisiana State University to stay home and help his mother. He soon found himself working at the Mississippi Museum of Natural Science, and from there he worked up to his current title, conservation educator and naturalist.
"I get to educate, and I love what I do. Not too many people can say that they have a job that they love to do," Wright said.
The museum's latest project, "Snake Week," is packed with events for children and adults revolving around the reptiles. Wright will assist in the hands-on programs, showing snakes to museumgoers and letting them hold many of the animals.
"Seeing their faces when you show them a creature that they've never seen before" is the best part of his job, Wright said.
Wright says everyone can learn from the animals. "I think that every family should take part in Snake Week, to observe and interact with it," he said.
Following "Snake Week," the museum is holding another exhibit, "Reptiles: The Beautiful and Deadly." While many snakes featured during "Snake Week are native to Mississippi," reptiles used in this exhibit are not. But Wright says they're no less important.
"These animals are not native, but they're something that people should take in and observe, and pay attention to the similarities and differences between Mississippi animals and them," Wright said.
"It's a blessing to be able to give knowledge," he said.
For details on Snake Week, visit the Mississippi Museum of Science website, or call 601-576-6000. The museum is located at 2148 Riverside Drive. The event begins today, June 3, and runs through Saturday, June 8.