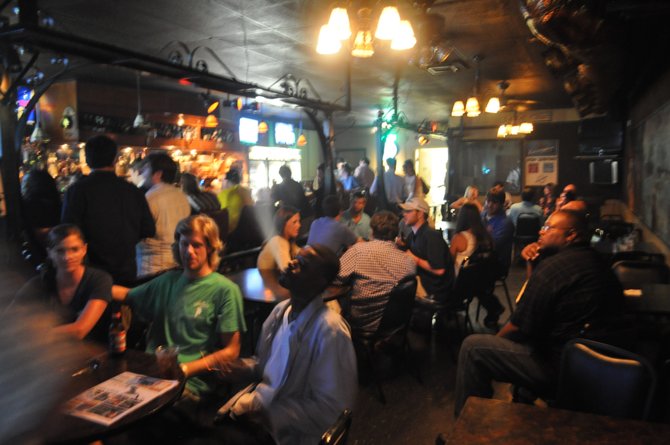 Best Bar; Best Bar Where Everyone Knows Your Name; Best Open-Mic Night: Fenian's Pub 901 E. Fortification St., 601-948-0055, fenianspub.com
It's no surprise to find Fenian's Pub crowned Jackson's Best Bar for a third-straight year and at the top of all three categories for the second year in a row. All the people who voted for it in 2011 are still there at least two nights a week. At the corner of Fortification and Jefferson streets, Fenian's is the neighborhood watering hole for more than just those who live in Belhaven. From Jonathan the bouncer's friendly nod when he knows he's checked your ID before to Jamie grabbing your favorite beer before you can even ask, Fenian's really is a place where everyone knows your name. If you've got music, comedy or poetry you want to share, come ready to step up to the mic on Tuesdays for your free, uncensored 15 minutes on stage.--Jacob Fuller
Best Bar Second: The Bulldog (6111 Ridgewood Road, 601-978-3502) / Third:  Ole Tavern on George Street (416 George St., 601-960-2700) / Good Showing: Hal & Mal's (200 S. Commerce St., 601-948-0888); Table 100 (100 Ridge Way, Flowood, 601-420-4202); Underground 119 (119 S. President St., 601-352-2322)
Best Bar Where Everyone Knows Your Name Second: Hal & Mal's (200 S. Commerce St., 601-948-0888) / Third: Ole Tavern on George Street (416 George St., 601-960-2700) / Good Showing: Cherokee Inn (1410 Old Square Road, 601-362-6388); Julep Restaurant and Bar (4500 Interstate 55 N., Suite 105, 601-362-1411); Martin's Lounge (214 S. State St., 601-354-9712)
Best Open-Mic Night Second: Time Out Sports Cafe (6270 Old Canton Road, 601-978-1839) / Third: Suite 106 (106 Wilmington St., 601-940-7059) / Good Showing: Last Call Sports Grill (1428 Old Square Road, 601-713-2700); Ole Tavern on George Street (416 George St., 601-960-2700); Soul Wired Cafe (111 Millsaps Ave., 601-863-6378)
Best Dive Bar; Best Place to Drink Cheap: Martin's Lounge 214 S. State St., 601-354-9712, martinslounge.net
When people in Jackson talk about dive bars, one of the main names that comes up is Martin's Lounge. "We're a dive bar with more to offer, now," current owner Joseph Stodghill says. Since taking over the bar after his father, Calvin Stodghill, passed away in August 2012, Joseph has overseen several renovations to Martin's. The back room, used for entertainment, has been completely restored with new walls, flooring, bar tables and more. Martin's Lounge also has a new ventilation system and a new kitchen open Tuesday through Friday. With the help of booking agent and late-night general manager Chris Rybolt, the bar is now home to live music from mainly local acts each Tuesday evening.
Martin's stands out when it comes to drink specials. On Mondays, enjoy two-for-one draft beers all day. Each Tuesday, to go along with the Late Night Karaoke with Matt Collette, the bar serves $1 Miller High Lifes and Pabst Blue Ribbons and $2 margaritas 10 p.m.-midnight. Wednesday is Ladies' Night--ladies get half-priced drinks from 5 p.m. until closing.--Briana Robinson
Best Dive Bar Second: Sam's Lounge (5035 Interstate 55 N., 601-983-2526) / Third: Cherokee Inn (1410 Old Square Road, 601-362-6388) / Good Showing: F. Jones Corner (303 N. Farish St., 601-983-1148); Fenian's Pub (901 E. Fortification St., 601-948-0055); Shucker's on the Rez (116 Conestoga Road, Ridgeland, 601-853-0105)
Best Place to Drink Cheap Second: Fenian's Pub (901 E. Fortification St., 601-948-0055) / Third: Sam's Lounge (5035 Interstate 55 N., 601-983-2526) / Good Showing: Cherokee Inn (1410 Old Square Road, 601-362-6388); Club Magoo's (824 S. State St., 601-487-8710); Time Out Sports Cafe (6270 Old Canton Road, 601-978-1839)
Best Jukebox: Sam's Lounge 5035 Interstate 55 N., 601-983-2526
It's not surprising that Sam's Lounge won Best Jukebox for its first Best of Award first-place award. Despite its unassuming exterior (the lounge is located inside the Best Value Inn & Suites off Interstate 55's Frontage Road), Sam's has carved out a niche for itself in the Jackson nightlife scene, anchored by its extensive jukebox playlist. There's just something about having the power to put on your favorite song as soon as you want it. If you are looking for a place to unwind after work where everybody knows your name, stop by the lounge for the colorful decor and friendly staff. During the week, shoot some pool and listen to music on the Internet-wired jukebox. On weekends, Sam's Lounge hosts live music of all genres.--Pamela Hosey
Second: CS's (1359-1/2 N. West St., 601-969-9482) / Third: Crechale's (3107 Highway 80 W., 601-355-1840) / Good Showing: Cherokee Inn (1410 Old Square Road, 601-362-6388); JC's Construction (425 N. Mart Plaza, 601-362-3108); Peaches (327 N. Farish St., 601-354-9267)
Best Happy Hour; Best Margarita: Babalu Tacos and Tapas 622 Duling Ave., Suite 106, 601-366-5757, babalums.com
After a long day, a good drink and something to eat while enjoying good company is a beautiful thing. At a good price, it's gorgeous. Add in a patio in nice weather, and it may stretch into more than just an hour. Babalu Tacos and Tapas in Fondren has all of these things, and in the spirit of sharing--which goes along with tapas--calls its daily food and drink specials from 4 p.m. to 6 p.m. "Social Hour."
During that time, you can sip on a glass of wine for just $5 or signature sangria for $4 and enjoy some popular tacos--the carnitas (pulled pork) and fish of the day are among the most popular--for just $2.
As for what to drink during social hour, look to the classic margarita. Maybe it's the combination of salty and sweet (and sour). Maybe it's that they remind us of warm weather and beaches. Or maybe it's just the tequila. Whatever the reason, margaritas remain a favorite of the cocktail crowd. At Babalu, you can settle in at the bar to order one that features fresh-squeezed juices and, if you'd like, choose from among its 19 premium tequilas. If you want to step outside the traditional, go for the signature Babarita (made with agave nectar and POM juice) or a tamarind margarita (featuring fresh citrus and tamarind extract). Whichever you settle on--or if you try all of them--you're sure to quench your thirst for a little taste of something from south of the border.--Julie Skipper
Best Happy Hour Second: Time Out Sports Cafe (6270 Old Canton Road, 601-978-1839) / Third: Underground 119 (119 S. President St., 601-352-2322) / Good Showing: Burgers & Blues (1060 E. County Line Road, Suite 22, Ridgeland, 601-899-0038); Fenian's Pub (901 E. Fortification St., 601.948.0055); La Cazuela (1401 E. Fortification St., 601-353-3014); Pan-Asia (720 Harbour Pointe Crossing, Ridgeland, 601-956-2958)
Best Margarita Second: Margaritas Mexican Restaurant (1625 E. County Line Road, 601-927-7672; 727 Clinton Parkway, Clinton, 601-924-0005) / Third: Sombra Mexican Kitchen (140 Township Ave., Suite 100, Ridgeland, 601-707-7950) / Good Showing: El Potrillo Mexican Restaurant (123 Grand View Blvd., Madison, 601-605-9320; 100 Laurel Park Drive, Flowood, 601-939-9900; 1390 Highway 80 E., Brandon, 601-591-1314); La Cazuela Mexican Grill (1401 E. Fortification St., 601-353-3014); Papitos Mexican Grill (6376 Ridgewood Court Drive, 601-665-4632)
Best LGBT Hangout: Bottoms Up 3911 Northview Drive, 601-981-2188
My friends and I always recall our nights at Bottoms Up with smirks and giggles. On Saturday nights, the dance floor is filled with all types of people, from provocative dancers to buttoned-up business types to local college students just looking for a night out. Every person I've brought to Bottoms Up, gay or straight, has had a good time and can't wait to go back. The bar frequently has glow-paint and black lights, making you feel like you're living out a Ke$ha music video.
Saturday nights also feature drag shows around midnight that are always packed, and offer a great chance for us to cheer until we're hoarse. I'll never forget the night when one drag queen did a triple pirouette followed by a front handspring. Bottoms Up is open until 4 a.m., making it the perfect place to end a night out in Jackson.--Mo Wilson
Second: JC's Construction (425 N. Mart Plaza, 601-362-3108) / Third: Dick and Jane's (206 W. Capitol St., 601-952-1000) / Good Showing: Club Metro Reloaded (4670 Highway 80 W., 601-353-0059); Fenian's Pub (901 E. Fortification St., 601-948-0055); Julep Restaurant and Bar (4500 Interstate 55 N., Suite 105, 601-362-1411)
Best Local Blues Artist: Jarekus Singleton
Jarekus Singleton, 28, has been named the new face of Mississippi blues. The Jarekus Singleton Band is a family affair, consisting of Jarekus' cousins and brother. They perform in clubs, at festivals, and in venues across the state and the southeast. Singleton has performed with well-known artists such as King Edward, Omar Cunningham and Grady Champion. In 2011, the band was named Guitar Center's King of the Blues in Mississippi. Called "A star on the Rise" in the United Kingdom's Blues & Rhythm magazine, Jarekus released his first album, "Heartfelt," and is currently working on his second. The Jackson Mississippi Music Awards chose him as the 2012 Blues Artist of the Year. Jarekus Singleton also has an endorsement from Clevenger Guitars of Hot Springs, Ark., where owner Bert Clevenger built two guitars especially for Jarekus.--Shameka Hayes-Hamilton
Second: Jesse Robinson / Third: King Edward / Good Showing: Bobby Rush; Jackie Bell; Scott Albert Johnson
Best Local Cover Band: Diesel 255 diesel255.com
Diesel 255 is a five-piece band made up of an eclectic mix of artists bringing their style of melt-your-face raucous rock to the masses. Destin Purvis, Brandon Latham, Kenny Davis, Richard Lee Davis and Seth Thomas have all been powerhouses in the local music scene doing solo projects, but come together to create Jackson's No. 1 local cover band. And unlike a lot of band members who would let their success and experience blow up their egos, these guys remain humble and true to the music they make with each other. The next time you are out and about looking for a band that will keep you on your feet, Diesel 255 will not disappoint.--Natalie Long
Second: The Colonels / Third: Southern Komfort Brass Band / Good Showing: Shadz of Grey; Jason Turner; Hunter Gibson
Best Local Hip-Hop Artist: 5th Child 5thchildmusic.bandcamp.com
In her song, "Superstar," Lauryn Hill sings, "Music is supposed to inspire/How come we ain't getting no higher." Stephen Brown, aka 5th Child, wants to make one thing clear: He is not a hater of hip-hop. "I don't make much club music because I don't spend much time in the club," 5th Child says. "I would like my music to eventually make it to local and national radio, but that's far from my priority right now because I don't see a lot of that positively impacting lives the way I'd like to do with my music." The 26-year-old Jackson resident recently released his sixth album, "Love Letters and Suicide Notes," and is no stranger to the Jackson music scene. He has collaborated with the likes of PyInfamous, Skipp Coon and Kamikaze for quite some time. A lover of music of almost all kinds, 5th lists artists such as Jay-Z, Nina Simone and Curtis Mayfield as influences.--Shameka Hayes-Hamilton
Second: Kamikaze / Third: Hollywood Luck / Good Showing: David Banner; Jay Lotto; Skipp Coon
Best Local Country Artist: Skylar Laine
I like that a down-home girl from Mississippi that enjoys mud riding, deer hunting and putting ketchup on her pizza--and is afraid of spiders--made it to the top five on season 11 of America Idol. Born Skylar Laine Harden, she auditioned in Houston with the Pistol Annies song, "Hell on Heels," which impressed the judges and got her a ticket to Hollywood. Laine chose "Idol" because the timing was right. "I always wanted to try out, but there was always something in the way," she says. "I was about to start nursing school, and I said, 'Why not?'" Among so many memorable moments in 2012, the tour was the highlight for her. Laine spent the summer on the American Idol Live Tour traveling around the U.S. and the Philippines. Recently, Laine parted ways with her management company but is working on writing songs and artist development. She has a positive outlook for her future and calls 2013 "a year of choices for me."--ShaWanda and Michael Jacome
Second: The Colonels / Third: Jason Turner / Good Showing: Crossin' Dixon; Jason Miller; South of 20
Best Live Music Venue: Hal & Mal's 200 S. Commerce St., 601-948-0888, halandmals.com
From the Red Room to the Big Room to its restaurant floor, Hal & Mal's has provided a much-needed and appreciated atmosphere of growth for Jackson musicians and music fans alike for decades. Where some live venues can suffer from constant control of the environment, Hal & Mal's isn't about hand holding or restraint. It lets bands decide what best suits their individual needs and styles. Don't be surprised to walk into two shows in the same week and feel surprisingly different. However, that doesn't mean you'll ever be out of place in Hal & Mal's. The combination bar and restaurant and its always-approachable staff produce a warm, inviting venue that Jackson's finest acts love to frequent and where music lovers naturally congregate. There are plenty of Mississippi bars doubling as music venues with varying degrees of success, but Hal & Mal's commitment to the Jackson music scene place is at the forefront.--Micah Smith
Second: Underground 119 (119 S. President St., 601- 352-2322) / Third: Duling Hall (622 Duling Ave., 601-362-8440) / Good Showing: Burgers & Blues (1060 E. County Line Road, Suite 22, Ridgeland, 601-899-0038); Club Magoo's (824 S. State St., 601-487-8710); The Penguin (1100 John R. Lynch St., Suite 6A, 769-251-5222)
Best Local Jazz Artist: Pam Confer
Voted Best Jazz Artist for the second year in a row, Pam Confer is a jazz singer by night and a motivational speaker and HR consultant by day. This multi-talented woman believes her two careers go hand-in-hand because the outcome of both is to make a difference in people's lives. Confer grew up in a large family of 12--all of them singers. "Everybody sang--from the old folks down to the kids," she says.
Inspired by jazz singers Etta James and Sarah Vaughan, Confer eventually shifted from singing gospel music to what she calls "sultry and sassy jazz." She appreciates Jackson's interest in musical diversity. "There's a good audience for different kinds of music, an openness to change and different experiences," she says.--Genevieve Legacy
Second:  Swing De Paris / Third: Rhonda Richmond / Good Showing: Barry Leach; Lisa Palmer; Raphael Semmes
Best Local R&B Artist: Kerry Thomas kerrythomasmusic.com
With a sound that is a mix of pop, R&B and neo-soul, Kerry Thomas--known to his fans as KT--has wowed Jackson with his performances at Suite 106. The singer, songwriter and self-taught acoustic guitarist credits artists such as John Mayer, Stevie Wonder, Luther Vandross, Eric Roberson and John Legend as his musical influences. In 2011, KT appeared in concert during the Essence Music Festival at the House of Blues in New Orleans with rapper PyInfamous. Although his live shows consist of cover performances, KT is best known for his original works. His EP, "Eye of the Storm," is available now on iTunes and Amazon.--Shameka Hayes-Hamilton
Second: Akami Graham / Third: K.D. Brosia / Good Showing: A1 (Alry Williams); Lou Writer; Pam Confer; Recognition
Best Local Rock Artist: Jason Turner jasonturnerband.com
Jason Turner made a huge jump from Good Showing in Best Local Rock Artist in 2012 to this year's top winner. While some fans and music websites and publications refer to him as a country artist, it's all rock 'n' roll to him. Influenced by the blues music he was surrounded by--his mother worked at Malaco Records--he started playing the guitar at age 12. These days, he leans more toward singer/songwriter music such as John Mayer. His live sets often feature him as a one-man band with an acoustic guitar, harmonica and effect pedals. Check his website for an updated tour schedule, or catch him hosting open-mic nights at the Ole Tavern on George Street.--Briana Robinson
Best Local Rock Artist Second: Storage 24 / Third: The Colonels / Good Showing: Chad Wesley; Cody Cox; Kid Vicious
Best Original Band (tie): Furrows; Southern Komfort Brass Band
The tie between Jackson's two best original bands says plenty about our city's rich heritage and bright musical future. Indie-rockers Furrows meld old-fashioned Americana rock with tasteful distortion and bouncy but haunting piano, while the self-professed "instant party" that is the Southern Komfort Brass Band dips its finely tuned fingers into just about every available genre. Yes, "original" is just about the best way to position these two groups under one adjective, though it is nowhere near doing them justice.
Southern Komfort's music blends the best of New Orleans' signature jazz sound with revival funk that makes it utterly impossible not to dance, painting each performance as a new experience rather than more of the same.
Meanwhile, Furrows takes the proverbial baton from Jackson's best indie bands, adds a uniquely soulful spark, and runs with it at hyper-Olympic speeds. But the area that these two bands earn their titles as Jackson's best original bands is in sheer, unfiltered, unfettered fun. Future audience of these two phenomenal groups of entertainers, consider yourselves warned: You will have a good time.--Micah Smith
Second: Jason Turner / Third: Storage 24 / Good Showing: Liver Mousse; The Colonels
Best New Bar: Capitol Grill 5050 Interstate 55 N., Suite F, 601-899-8944
The mood lighting, black tablecloths and elegant patterned carpet don't exactly scream "bar." However, the crowds that gather on game days suggest otherwise. On any given day, devotees of Mississippi sports teams are parked in front of the Capitol Grill's flat-screen TVs mounted above an enormous bar that carries a respectable variety of craft beers as well as traditional brewed favorites. The space is ample to accommodate folks who are there to dine and those who just want to imbibe while taking in a game. Among the other spirits, Capitol Grill features martinis, wine and several signature cocktails such as the Capitol Margarita--with sour mix that's made in-house--and the Capitol Cooler that contains watermelon and peach Schnapps, Sprite, orange juice and Grey Goose.--R.L. Nave
Second: University Place Sports Bar and Grill (1100 John R. Lynch St., Suite 10, 601-487-8059) / Third: The Islander (1220 E. Northside Drive, Suite 100, 601-366-5441) / Good Showing: Da Shak Bar & Grille (4586 Clinton Blvd., 601-487-8453); The Penguin (1100 John R. Lynch St., Suite 6A, 769-251-5222); Soul Wired Cafe (111 Millsaps Ave., 601-863-6378)
Best Place for Cocktails: Julep Restaurant and Bar 4500 Interstate 55 N., Suite 105, 601-362-1411, juleprestaurant.com
Julep owners Mary and Patrick Kelly like to have fun. Maybe that's why they were able to create a restaurant that is a consistent go-to for folks wanting to grab some cocktails and conversation--it feels like a party because they know how to throw one. You can mingle at the bar, of course, but there are also large booths perfect for groups (and people-watching). And then there's the real reason you're there: the drinks. The wine list includes many bottles scoring 90 points or higher in wine ratings, and the bartenders shake a mean martini. When you stay long enough to get hungry, you'll be glad that their famous honey-rosemary chicken is available on the late-night menu until 1 a.m. on weekends.--Julie Skipper
Second: Table 100 (100 Ridge Way, Flowood, 601-420-4202) / Third: Parlor Market (115 W. Capitol St., 601-360-0900) / Good Showing: Babalu Tacos and Tapas (622 Duling Ave., Suite 106, 601-366-5757); BRAVO! Italian Restaurant and Bar (4500 Interstate 55 N., Suite 244, 601-982-8111); Underground 119 (119 S. President St., 601-326-2322)
Best Place to Dance: Club Magoo's 824 S. State St., 601-487-8710, clubmagoos.com
When it comes to a place to break it down, Club Magoo's appeals to a wide range of people. While the free karaoke in the front is always a good time, if you really want to get down, the cover fee ($20 for 18- to 21-year-olds, and $5 for those 21 and up) is worth it to enter the club area. It features a large dance floor and stage for live performances. DJs spin top hip-hop, pop and rock tracks, along with mash-ups. Each weekend, the club has a live band, usually playing a mixture of original and cover songs.--Briana Robinson
Second: Bottoms Up (3911 Northview Drive, 601-981-2188) / Third: Underground 119 (119 S. President St., 601-352-2322) / Good Showing: Martin's Lounge (214 S. State St., 601-354-9712); Ole Tavern on George Street (416 George St., 601-960-2700); Salsa Mississippi (605 Duling Ave., 601-213-6355)
Best Place to Shoot Pool: The Green Room 444 Bounds St., 601-713-3444
"Pool excellence is not about excellent pool," Paul Newman said in "The Color of Money." The same can be said about The Green Room. Quality tables (which they have) do not make a quality pool hall. Neither does the variety of beer, mixed drinks and food (which is plentiful). Even the amount of regular talented pool hall players does not ensure excellence. But the atmosphere which gives an almost brotherly rivalry that is palpable in the air, combined with these previous factors, continues to prove that the only place to play pool in Jackson is The Green Room.--Michael Jacome
Second: Reed Pierce's (6791 Siwell Road, Byram, 601-376-0777) / Third: Sam's Lounge (5035 Interstate 55 N., 601-983-2526) / Good Showing: Cherokee Drive Inn (1410 Old Square Road,  601-362-6388); Last Call Sports Grill (1428 Old Square Road, 601-713-2700); Shucker's on the Rez (116 Conestoga Road, Ridgeland, 601-853-0105)
Best Place to Watch the Game: The Bulldog 6111 Ridgewood Road, 601-978-3502, bulldog-jackson.draftfreak.com
"Watching the game" requires so much more than just a set of eyes and a functioning television. To get the most out of your sporting event of choice, a few more ingredients are necessary: good food, copious beer and room for friends. The Bulldog combines those elements better than anywhere else. Crowd into a plush booth or sit around a high-top table, order a crawfish pie to share and take your pick from the wall-long line of draft beer--now, that's watching the game.--Kathleen M. Mitchell
Second: Last Call Sports Grill (1428 Old Square Road, 601-713-2700) / Third: Alumni House Sports Grill (110 Bass Pro Drive, Pearl, 601-896-0253) / Good Showing: Buffalo Wild Wings (808 Lake Harbour Drive, Ridgeland, 601-856-0789); Time Out Sports Cafe (6270 Old Canton Road, 601-978-1839)
Best College Student Hangout (tie): Ole Tavern on George Street; Fenian's Pub Ole Tavern on George Street (416 George St., 601-960-2700) Fenian's Pub (901 E. Fortification St., 601-948-0055, fenianspub.com)
Southern flair and friendly neighborhood bar atmospheres make Fenian's Pub and the Ole Tavern on George Street the most ideal places for local college students to chill. Few other establishments in Jackson have the diverse appeal of Fenian's, from karaoke nights to pub quizzes. "You can come alone and leave with friends," says manager T. Francis. Meanwhile, Jackson's beloved Ole Tavern is what most college-town bars should aspire to be. Sure, it's urbane without seeming elitist, but more importantly, it's just downright cool.--Micah Smith
Second: The Bulldog (6111 Ridgewood Road, 601-978-3502) / Third: Club Magoo's (824 S. State St., 601-487-8710) / Good Showing: Cups: An Espresso Cafe (Multiple Locations, cupsespressocafe.com); Sneaky Beans (2914 N. State St., 601-487-6349); University Place Bar and Grill (1100 John R. Lynch St., Suite 10, 601-366-5441)
More like this story
More stories by this author