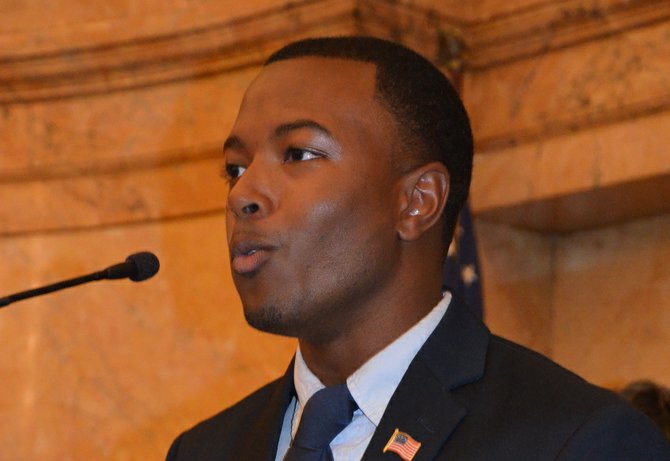 The recently elected Rep. Jeramey Anderson, D-Moss Point, was sworn in to the Mississippi House of Representatives Dec. 6, which happened to be his 22nd birthday. Anderson won the special run-off election Nov. 26 to fill the seat former Rep. Billy Broomfield vacated to become mayor of Moss Point. Anderson's first legislative session is scheduled for noon Jan. 7, 2014.
Anderson credits his interest in leadership to his early involvement with the Boys & Girls Clubs of America, which he joined at age 6. In 2010, the organization named Anderson Youth of the Year of the Jackson branch and first runner-up for the State of Mississippi Youth of the Year. As Youth of the Year, he created a fundraiser called "Hearts for Haiti" to send funds and donations to the earthquake victims in Haiti.
Anderson attended Moss Point High School and received his associate degree in criminal justice from Pearl River Community College. He was published in Who's Who Among Outstanding American Students. Anderson is currently a senior at Tulane University studying homeland security and public relations.
Anderson's interest in politics solidified in high school.
"I've always been interested in leadership roles," Anderson said. "I was class president in my sophomore, junior and senior years in high school. But my interest in politics really got started in my 11th grade year, when I went to Boys State."
The veterans' organization American Legion runs Boys State, which aims to teach potential future leaders about the structure and function of federal government. Attendees at Boys State camps run for various local and federal offices among their peers, and learn about politics and the responsibilities of officials including mayors, governors and senators. Anderson ran for and won the position of lieutenant governor at the camp and also headed the Boys State Senate.
At age 16, Anderson founded a non-profit organization called Purple Knights of America, of which he currently serves as president and CEO. Purple Knights is dedicated to mentoring young boys ages 11-18. The program takes students to six colleges each year, from community colleges to Ivy League schools, so that students can be exposed to a variety of school atmospheres and be knowledgeable about their choices when it comes time to pick a school. Find out more about Purple Knights on http://purpleknights.org/ the organization's website.
Anderson is eager to get to work learning the ropes of his new position in the upcoming legislative session.
"I look forward to my experiences in the House and serving my constituents," Anderson said. "I'm going to try to get an understanding for the House and the House rules in the upcoming sessions. I have some things I want to work out and some things back home I can help fix. This session will be about coming to understand the House so I can better perform in the following sessions."
Education is one of Anderson's top legislative priorities .
"I campaigned on improving an education system that could use some work," Anderson said. "The system in my district has a ways to go, but I intend to work toward improving its quality. I want to be a spokesperson to the people of my district and to the young people of our state as a representative. I want to push towards fully funding education in the state, making sure we have quality educators, and engaging students so they are eager to learn and come to school. I want to make graduation something they want to do rather than something they have to do."
Anderson finished his interview with a message to his constituents.
"I always try to include a thank you to the voters in interviews," Anderson said. "Electing a 22-year-old is not something that commonly happens. I think my district should be commended for pushing Mississippi towards a more progressive era, and I want to thank the young people in my district for moving our state forward."
More like this story
More stories by this author