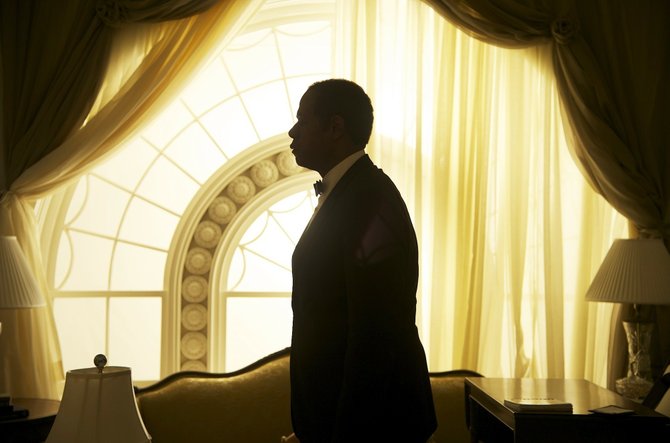 In Lee Daniels' "The Butler," everyone loves Cecil Gaines (Forest Whitaker) because he never says what he thinks. He's a butler, trained as a house servant after a white man rapes his mother (Mariah Carey) and murders his father (David Banner). Before this tragedy, Cecil worked with his parents as a field hand.
Miss Annabeth (Vanessa Redgrave), the plantation matriarch, shows a bit of kindness to young Cecil by taking him into the big house. She teaches Cecil the secrets of fine service.
"The room must feel empty when you're in it," she tells him.
The true story of Eugene Allen, a White House butler for more than 30 years, was the inspiration for Danny Strong's screenplay for the film. In this highly fictionalized account, Cecil is the workingman's hero. He never dreams of a big life. He feels blessed to have a job at a swanky hotel in Washington, D.C., giving him the ability to financially support his wife, Gloria (Oprah Winfrey), so she can stay home and raise their two boys. The White House notices Cecil's apolitical and unassuming ways and hires him, and Cecil serves as a butler under eight presidents (played by a star-studded list, including Robin Williams, James Marsden, John Cusack and Alan Rickman).
Daniels crosscuts news clips, home-styled videos and historical events with Cecil's personal life. While Cecil polishes silver and sets a magnificent table for a White House state dinner, his son Louis (David Oyelowo) endures taunts and scalding coffee thrown in his face at a Woolworth sit-in. Louis' younger brother Charlie (Elijah Kelley) enlists to fight in Vietnam. The opposing ways Cecil and Louis deal with bigotry, injustice and racial discrimination is the glue that holds this film together as it swings back and forth from inspiration to disillusionment.
In a defining scene, Dr. Martin Luther King Jr. (Nelsan Ellis) explains to Louis the vital role of domestic help in black history. Through hard work and subservience, the butler slowly tears down the stereotypes and becomes subversive without knowing it.
This movie ambitiously introduces dozens of characters. Under Daniels' direction, the entire cast pulls out one phenomenal performance after another. Whitaker's performance, in particular, is a breathtaking balance of quiet truths and smoldering anger. It's in his eyes and the way he moves his body. Oyelowo's Louis counters with fine nuances. He's an angry Hamlet in an American nightmare.
Winfrey is a fireball of maternal conviction. At a reconciliation dinner, Cecil says that Sidney Poitier's character in "In The Heat of the Night" reminds him of Louis, and Louis responds by calling Poitier a rich Uncle Tom. Cecil explodes, demanding his puffed-up son and belching girlfriend leave his house. In a stand-by-her-man moment, Gloria backhands her son when he sasses his dad. Like Whitaker and Oyelowo, Winfrey delivers an Oscar-caliber performance.
Not known for his subtle touch, Daniels (who directed "Precious" and produced "Monster's Ball") broadcasts a righteous indignation. He visually telegraphs the big moments with symbolic close-ups and further escalates the emotional drama with a fully loaded orchestra, ready on command to shatter your complacency with scores of violins.
With 41 credited producers and a star-studded cast at least as long, this film is operatic and a touch too "Forrest Gump" as Cecil witnesses 30 years of historic events in the Oval Office. It's also radically uneven, which happens when one approaches subject matter with an unyielding passion. Despite that, I laughed. I cried. I clapped as loudly as anyone else in the theater by the movie's end.
More like this story