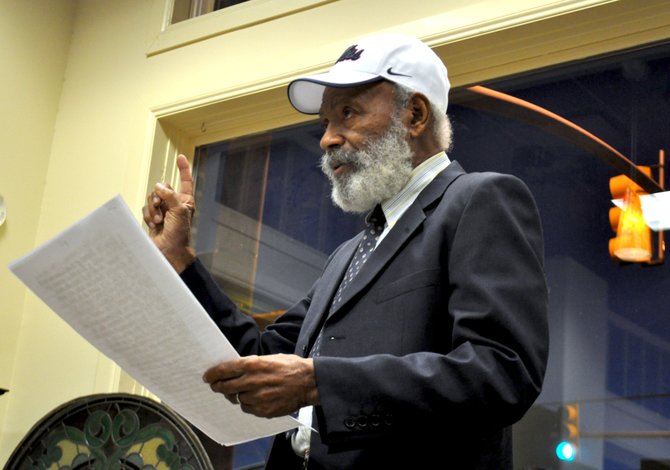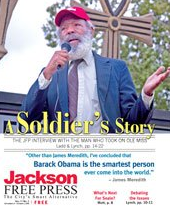 Donna Ladd and Adam Lynch interviewed Mississippi icon James Meredith in his Jackson home in 2008. His answers might surprise you.
Harvard University's Graduate School of Education is awarding James Meredith its Medal for Education Impact, the highest honor the school awards. Harvard gives the medal to those who dedicate themselves to education opportunity, achievement and success for all children. The award is the first such honor Meredith has accepted in 50 years.
"I've been all over the world, to every state except Alaska, and made many speeches, and I consider this the most important of my life," Meredith said in a press release. "In my mind (Harvard) is the most important institution dealing with education in the world, and we have a lot of things in America, particularly Mississippi especially, that need to be done differently."
In 1962, Meredith became the first African American to enroll at the University of Mississippi following a U.S. Supreme Court decision that forced the university to accept his admission application. White students and anti-desegregation protesters started a riot on campus in response to Meredith's admission. U.S. Attorney General Robert F. Kennedy and President John F. Kennedy called in 500 U.S. marshals, supported by the 70th Army Engineer Combat Battalion from Frt. Campbell, Ky., U.S. Army military police from the 503rd Military Police Battalion and troops from the Mississippi Army National Guard and the U.S. Border Patrol to end the riot. Meredith was able to register for classes the next day. Meredith graduated from Ole Miss with a degree in political science in August 1963.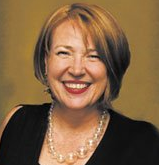 JFP Editor Donna Ladd writes about James Meredith and the hero she now calls a friend.
In 1966 Meredith organized the March Against Fear, a 220-mile walk from Memphis to Jackson to encourage African Americans to vote. Fellow civil rights activists Stokely Carmichael and Martin Luther King Jr. worked with Meredith on the event. A sniper's bullet wounded Meredith during the march, but he rejoined it and saw it through to its completion after his release from the hospital.
"Just over 50 years ago, Mr. Meredith walked through the doors of the University of Mississippi, becoming the first African American to enroll in the previously segregated school," Harvard Dean Kathleen McCartney said in a press release. "In doing so, he forced America to look in the mirror and become a better nation. Fifty years later, he is still working to address inequality in America's schools. At the Graduate School of Education, "we know that education is a civil right. James Meredith endured beatings and bullets to fight for that right. His courage and determination cannot be overstated. Today, we all walk in his footsteps and through the doors he opened."
More like this story
More stories by this author