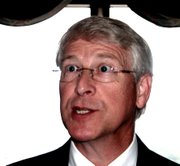 The way Republican U.S. Sen. Roger Wicker is raising campaign cash, you would think his opponent was former Vice President Al Gore, not retired preacher Albert N. Gore Jr.
For most of the summer, Wicker has averaged about one fundraiser per week, according to information compiled by Political Party Time, a project of the Sunlight Foundation, a Washington, D.C.-based campaign-finance watchdog group.
The events included a June 19 fundraiser for Wicker's birthday, benefitting his Responsibility and Freedom Work Political Action Committee, RFWPAC. Billed as a rooftop celebration at 601 13th St. N.W., the birthday party cost $250 to $1,000 for individuals and $1,000 to $5,000 for PACs.
In all, Wicker, a first-term senator from Tupelo, has raised $2.6 million in the past year alone, according to the Center for Responsive Politics.
Records show in the three months between April 1 and June 30, 2012, Wicker spent about $103,000 from the fund, including $18,000 on "media, advertising and direct mail," $15,000 in consulting fees to Seitchik HQ, a California-based fundraising firm, and $10,330.67 on fundraising, campaign dinners and other events.
The remaining sum went to seemingly routine campaign operations. Wicker's campaign spent $10,172.35 on phone and Internet service, $7,473.24 on travel-related items, including airfare, hotel stays and gasoline. Also, $1,971.59 went toward a monthly car note of $565.87 as well as payments for OnStar navigation and Sirius XM radio services.
Calls to Wicker's Jackson campaign office about this story were not returned.
So far, Gore, Wicker's Democratic opponent, hasn't raised any money nor filed any quarterly campaign reports with the Federal Elections Commission. Gore is the chairman of the Oktibbeha County Democratic Executive Committee. A Vietnam War veteran, Gore says he has completed 91 jumps as an Army parachutist and received numerous military honors, including the Purple Heart, Bronze Star and Meritorious Service Medal. He has degrees from Millsaps College and Duke Divinity School.
Marty Wiseman, executive director of the John C. Stennis Institute on Government at Mississippi State University, said incumbents' raising money despite lacking a serious adversary has long been the practice among politicians.
"Whatever excuse you can come up with to hold a fundraiser, those with the means to give will give it," Wiseman said.
When donors give to comfortable incumbents, it's usually not to ensure a victory but to show loyalty and signal you're worth listening to, Wiseman said.
Since replacing retiring Majority Leader Trent Lott in 2007, Wicker has raised $9.7 million for his re-election campaign.
Although Wicker has led all Mississippi federal candidates in fundraising, other incumbents with large war chests and slight opposition also continue to raise funds. As of June 30, Bennie Thompson, the state's lone Democrat in Congress, has a war chest large enough that after raising $842,599 and spending $1.3 million in the two-year cycle, he still has $1.2 million in cash on hand.
Thompson's challengers include independent Cobby Mondale Williams, a teacher and economic-development consultant from Canton, and Republican Bill Marcy. Williams and Marcy have raised $14,400 and $181 during the cycle and have $2,114 and $5,853 on hand, respectively.
A fourth candidate, Lajena Williams of the Reform Party, has not reported any contribution information.
In the 1st District, incumbent Republican Rep. Alan Nunnelee has raised a little over $1.1 million and spent $965,903, leaving him with $267,659 in the bank. His Democratic opponent, Brad Morris, has raised $100,600 and spent $89,886, leaving him with only $10,749 to spend.
Of course, the candidates will be fundraising and spending up until the day of the election; these numbers only reflect the most recent filing, June 30.
Nunnelee's most generous donor is Telapex Inc., a telecommunications conglomerate based in Ridgeland, while the Communication Workers of America gave Morris his largest donation.
This is Nunnelee's first re-election battle after defeating incumbent Travis Childers in 2010. Morris served as Childers' chief of staff during his only term in office.
During Childers' re-election battle, he managed to raise and spend almost $1.8 million and still lost.
In District 3, Republican Gregg Harper has raised $647,340 and spent $452,683, leaving him with $235,788 cash on hand. Democrats are not fielding a candidate against Harper. After the Mississippi Democratic Party announced that Madison Attorney Vicki Slater would square off against Harper, she decided not to run.
Meanwhile, District 4's Steven Palazzo has raised $763,358, spent $562,322 and has $254,013 on hand. Northrop Grumman, an aerospace and defense technology company, has been the most generous donor to Palazzo's campaign.
The Democratic Party also announced on Sept. 5 that Matthew Moore of Biloxi is entering this race. Moore hasn't filed any fundraising information with the FEC yet. Moore has never held public office.
Comment and write R.L. Nave at rlnave@jacksonfreepress.com.