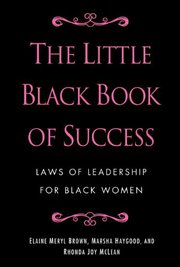 "Women for Progress of Mississippi brings together professional women who want to serve their community," organization co-chair Zakiya Summers says.
A business owner and WFP member since 2011, Summers is a natural organizer and spokeswoman for this weekend's WFP conference, "Rethinking the Possibilities, the Power Conference: Advancing Community through Women."
WFP's goal for the conference is to inspire and assist women in increasing their skills and acquiring the expertise to become effective leaders in their workplace, community and home.
The conference kicks off Friday, at 6 p.m., with a book signing and network reception at Gallery1, on the JSU campus. Participants will meet and greet guest speakers Elaine Meryl Brown, Marsha Haygood and Rhonda Joy McLean, the authors of "The Little Black Book of Success: The Laws of Leadership for Black Women" (One World/Ballantine, 2010, $20)
On Saturday, the activities continue at the Capitol Club of Jackson. The daylong event will include empowerment workshops with Angela Stewart and authors Brown, Haygood and McLean, a "Dining at Nefertiti's Table"-themed luncheon, a panel and audience discussion with Rev. C.J. Rhodes and a wrap forum moderated by jazz singer, Pam Confer. The conference will close with a "Golden Dynasty" theme reception.
Jackson educator Dorothy T. Stewart founded Women for Progress of Mississippi in 1978. WFP's mission is to serve as a catalyst for change through advocacy, awareness and action.
"Being a member of WFP has been a huge benefit," Summers says. "I would encourage all women to get involved. "
"Rethinking the Possibilities, the Power Conference" is Sept. 14-15. Admission is $25. For more info about Women for Progress of Mississippi or to register for the conference, visit womenforprogress.net.
More like this story