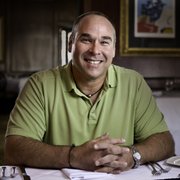 When the Edwards Street Fellowship Center, an outreach ministry of the United Methodist Church in Hattiesburg, didn't have enough food to feed their clients, they called Robert St. John.
The effervescent St. John, a well-known chef, restaurateur, author, blogger and self-described "world-class eater" from Hattiesburg, wanted to help. He called Sysco, a food-service company he's been working with, to see if he could get them to deliver food that he would pay for to the food bank. After working out some tricky details about the portion sizes and food quality to be donated, St. John realized he could help others do the same.
"Once I finally put the order together and got it sent, I thought, I bet restaurants will give more freely and often if there was an easier way to do so," he says. That's what prompted him to create his nonprofit organization, Extra Table. "The idea," he says, "is what if every restaurant, business and household in this country had an extra table to feed the needy? What would that look like?" His organization is on a mission to show just how it would look.
This week, Jacksonians will have the chance to not only sample St. John's cuisine, but to contribute to Extra Table's cause as well. For four days, Sept. 9-12, St. John and his team are taking over the Mississippi Museum of Art's Palette Café.
During lunch, the Palette Café will host the Crescent City Grill Jazz Brunch, with a live jazz trio entertaining guests while St. John himself whips up food in the museum kitchen.
In the evenings, the space will become the Purple Parrot Café, with the same attention to detail the AAA 4 Diamond-winning restaurant offers in Hattiesburg. St. John will hand the reins over to chef Jeremy Noffke, who planned the menu for dinner.
Both meals are fundraisers—the Crescent City Grill brunch will raise money for the MMA, and dinner at Purple Parrot Café benefits Extra Table.
Raven Tynes, executive director of Extra Table, hopes that after this event, the organization will be able to strengthen their partnership with food pantries in Jackson, such as Stewpot and Gateway Missionary, and begin providing them with food.
"The easiest is for restaurants to just make an order through Sysco, and the food will be delivered to the food pantries," she says. She added that individuals can donate at their website or through Greater Pine Belt Community Foundation or the Community Foundation of Greater Jackson.
The Crescent City Grill Jazz brunch will be served from 11 a.m.-2 p.m. and seating is first-come, first-served (no reservations taken). The Purple Parrot dinner serves 60 at each seating; at 6 p.m. and 8:30 p.m. each night. The four-course meal is $50, or $80 with wine pairings. Reservations required, call 601-960-1515. To learn more about Extra Table, visit http://www.extratable.com or call 601-264-0672.
Preview the Purple Parrot Café Menu
Course One
Prince Edward Island Mussel and Blue Crab Ceviche
Madras curry, pineapple, lime, micro cilantro
Korean Shrimp bun
House-made Kimchee, house pickles
Course Two
Trio of Hudson Valley Foie Gras
Seared, Torchon, Brulee
Weinbach Gewurztraminer, Alsace 2009
Salad of tomatoes, radishes, beets
Ryals Dairy Goat cheese mousse, pickled black walnut, candied nuts
Dog Point Sauvignon Blanc, Marlborough 2011
Vichyssoie
Beausoleil oysters, pickled leek mignonette, Hackleback Caviar, Oregon black truffles
Duval-Leroy Brut Champagne NV
Pig Tail Corn Dog
House-made pickles, mustards, pomme frites
Rudi Pichler Federspiel Gruner Veltliner, Wachau 2007
Course Three
Mediterranean Branzini
House-made Chorizo, fava beans, broccoli rabe, brown butter, preserved lemon
JJ Prum Kabinett Riesling, Wehlener Sonnenhur, Mosel 2009
"Filet" of Spinalis
Smoked Royal trumpet mushrooms, porcini dust, bone marrow crisp, parsnip puree, parsley oil
Hall Cabernet Sauvignon, Napa Valley 2009
Sea Scallop
New Bedford Scallops, butter-poached Maine lobster, popcorn grits, veal bacon, sunchoke, baby swiss chard
Thierry et Pascale Matrot, Meursault 2009
Roast Squab
Granny Smith apple, grated fennel, baby Brussels sprouts, medjool date reduction
Perrin et Fils, La Gille, Gigondas 2009
Course Four
Sweet Potato
Beignet, blondie, sweet potato caramel, caramelized white chocolate ice cream, orange
Alvear Pedro Ximenez, Montilla-Moriles, Solera 1927
Valrhona Chocolate
Milk, bittersweet, cocoa, and Oregon black truffle ice cream
Warre's Otima, 10 Year Old Tawny Port
Lavender Cheesecake
Ruby Red Grapefruit, Cardamom sorbet, finger lime
Elderton Botrytis Semillon, Riverina 2010
Course Five
Chef Jeremy Noffke
Sommelier Dusty Frierson
More like this story