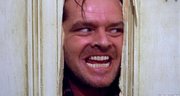 'Tis the season to get creeped out. Here are 13 movies guaranteed to make you scream like a little girl.   
"The Shining" (1980): Little boy on tricycle screams, "Redrum," while daddy wears a rictus grin. "Heeeere's Johnny."
"Rosemary's Baby" (1968): Evil rocks the cradle and scares mom into a stupor.
"The Omen" (1976): Bad boy who should have had more than a time-out but for overly permissive adoptive parents.
"The Texas Chain Saw Massacre" (1974): The chain saws in Texas are really big and can do anything. I mean anything!
"Nightmare on Elm Street" (1984): Whatever you do, don't fall asleep or you may feel the deadly ripple of Freddie's finger stilettos.
"Psycho" (1960): Mother-operated motels don't bode well for blondes on the run.
"Carrie" (1976): Revenge of the bloody prom queen.
"The Night of the Living Dead" (1968): Before the living, there were dead people. And then the dead people were living. 
"Ring" (1998): Is that a girl in my TV?
"Henry: Portrait of a Serial Killer" (1986): A chilling snapshot of the cold and bloody.
"Friday the Thirteenth" (1980): A cautionary tale for camp counselors engaged in sexual shenanigans.
"The Exorcist" (1973): Hell hath no fury like a girl with a twisting head.
"Halloween" (1980): Little Mike loves to play cut up with the kitchen cutlery.
More like this story