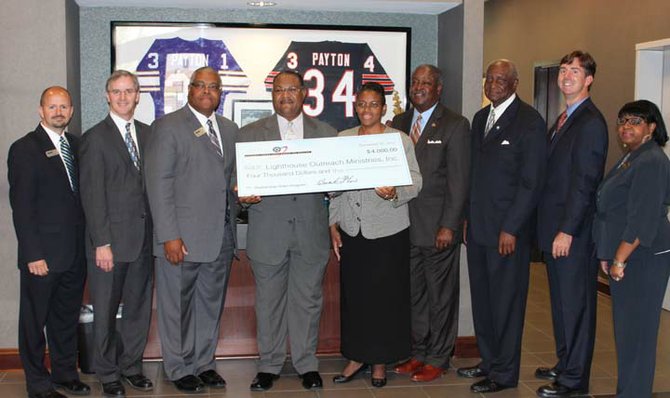 Kathleen M. Mitchell writes about the city's first food truck: Meals on Wheels
Community Groups Receive Grants
BankPlus and the Federal Home Loan Bank of Dallas awarded grants to two Jackson organizations Sept. 25.
Zoo Area Progressive Partnership and Lighthouse Outreach Ministries both received a $4,000 partnership grant. ZAPP will use the funds in community outreach projects. The banks awarded the funds to Lighthouse Outreach Ministries for operational and administrative costs.
"I applaud BankPlus and the Federal Home Loan Bank of Dallas for selecting these two organizations for this support," Jackson Mayor Harvey Johnson Jr. stated in a press release. "Both ZAAP and Lighthouse Ministries are important community partners who do so much work to improve our city. We commend both organizations for the important initiatives they provide and wish them much success in the future."
FHLB offers partnership grants through its member institutions--such as BankPlus--to organizations involved in affordable housing and community development. FHLB matches the members' contributions at a ratio of 3-to-1 for grants between $500 and $5,000.
"We are proud to partner with the Federal Home Loan Bank of Dallas in awarding partnership grants to the Zoo Area Progressive Partnership and Lighthouse Outreach Ministries," David Johnson, senior vice president and director of community development for BankPlus, stated in the release. "Both organizations have impressive track records of revitalizing, stabilizing and improving their respective communities."
ZAPP promotes the revitalization of the Capitol Street Corridor and supports the Jackson Zoo through community beautification and improvements projects. It does so with no paid staff, so it is dependent on grants such as this one.
Marcia Reed, president of ZAPP's board of directors, stated in the release that ZAPP will use the grant to do more community outreach and raise the organization's profile in the city.
"BankPlus has been a real community partner for a long time. They funded us last year with a donation and they recommended that we complete an application this year for the partnership grant because it would be a wonderful way to maximize their donation and get us more funds to do what we needed to do," Reed stated. "We are very happy about getting the grant."
Lighthouse Outreach Ministries is an organization that assists elderly, youth, and displaced families in the metro area with needs such as food, tutoring, emergency family assistance and quality-of-life programs. The organization plans to use the funds to replace and upgrade office equipment and software, and to implement a small-business training program.
DOJ Awards Grants to Choctaws
The U.S. Justice Department awarded $3,123,496 in grants to the Mississippi Band of Choctaw Indians.
The grants are part of $101 million in grants to Native Americans to enhance law enforcement practices and sustain crime prevention and intervention efforts in 10 selected areas including public safety, community policing, justice systems planning, alcohol and substance abuse, corrections and correctional alternatives, violence against women and tribal youth programs.
"Over the last several years, we've consulted with tribes and participated in listening sessions that provided a clear message of a need for coordination and flexibility to access our grant resources," Acting Associate Attorney General Tony West stated in a press release. "Our outreach and communication with tribal governments have been critical to our understanding of how to better serve and support our tribal partners. These awards represent our ongoing commitment to help put an end to the unacceptable and sobering crime rates witnessed in Indian Country."
DOJ created the grants through the Coordinated Tribal Assistance Solicitation, a product of the Office of Community Oriented Policing. The program awarded its first round of grants in September 2010. It has awarded $245 million in grants in 2011 and 2012.
Baptist Health Opening 'Winter Wonderland'
Baptist Health Systems Madison campus announced it will transform for a program called Christmas on Ice from Nov. 17 through Jan. 6.
The family-friendly attraction will include a 7,200-square-foot ice rink, a 125-foot ice slide, Trustmark Stage, which will host as many as 51 concerts in 51 nights, a pavilion for private parties, 32-foot-tall animated Christmas characters performing hourly light shows and a Christmas Story Trail, depicting the birth of Jesus.
"We have long been recognized as the state's leader in health care, but more importantly we are also followers in faith," Baptist Health Systems President and CEO Mark Slyter stated in a press release. "We want to present a wonderful Christmas gift to our community as a simple thank you for placing their trust in us."
Nightly concerts will begin at 6:30 p.m. and feature choirs from several area churches and schools.
"This will without question be the 'coolest' event in the South," director on ice Steve Hutton stated. "Picture a mom and a dad spending the day with their children ice skating, eating at our outdoor cafe, walking hand in hand down the Christmas Story trail, and even having an opportunity to pick out their family Christmas tree, all at the Baptist Madison Campus."
There's an App for...Driving
The state Department of Public Safety partnered with Mississippi Interactive LLC to offer a driver's practice test application for phones and tablets.
The app consists of 25 practice questions for those practicing for the driver's license exam or just wanting to freshen up on their knowledge.
Once users answer the questions, the app shows them the correct answers and a grade of pass or fail.
Correction: A previous version of this story contained a story about Jackson's first food truck. I, Jacob Fuller, wrote the story based on a story written by Clay Chandler for the Mississippi Business Journal. Chandler's story can be found here: Food truck scheduled to hit downtown Jackson Oct. 8 In the hurry to get the Business Roundup story completed before going to the City Council meeting, I confused Chandler's story for a press release. We apologize to Chandler and the Mississippi Business Journal for this mistake and thank Chandler for pointing it out to us. I have included a link at the top to the story by Editor Kathleen M. Mitchell about the food truck.
More like this story