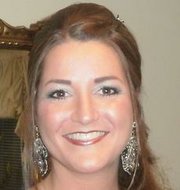 The Milken Foundation awarded Sabrina Morgan of Pearl Lower Elementary School the Milken Educator Award in a surprise ceremony Tuesday morning. Recipients of the Milken Educator Award do not know they have been nominated for the award until they are presented with it. The foundation selects up to 40 teachers per year to receive awards; winners receive a $25,000 cash prize.
Morgan is a first-grade teacher who has been with the Pearl school district for 11 years. Last year she organized a reading drive called Hooked on Books aimed at getting Pearl Lower Elementary's 702 students to read 10,000 books between the end of spring break and the end of the school year. Students met the challenge in less than four weeks. Morgan uses Skype to allow sick students to participate in class so they don't miss out on class time. She also organizes math- and science-night events for students and keeps parents informed of class activities with a weekly newsletter.
Ninety-six percent of Morgan's students improved in reading, and 100 percent improved in math in the 2011-12 school year, according to a state assessment. Morgan helps produce and revise curriculum maps and pacing guides, and she mentors beginning teachers. She chairs Pearl Lower Elementary's language-arts team and math team. She also supports juvenile diabetes awareness campaigns and organizes a districtwide canned food drive.
The Milken Foundation has been giving out Educator Awards for 26 years. The award was first presented to a dozen California teachers. More than 2,500 K-12 teachers, principals and specialists have received Milken Educator Awards, adding up to $63 million in total cash prizes so far.
The Milken Foundation selects candidates for the Milken Educator Awards based on the following criteria:
Exceptional educational talent as evidenced by effective instructional practices and student learning results in the classroom and school
Exemplary educational accomplishments beyond the classroom that provide models of excellence for the profession
Individuals whose contributions to education are largely unheralded yet worthy of the spotlight
Early- to mid-career educators who offer strong long-range potential for professional and policy leadership
Engaging and inspiring presence that motivates and impacts students, colleagues and the community
More like this story