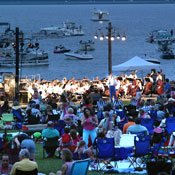 If you're looking for a fun family night or date night filled with music and fireworks, head out to the 31st annual Pepsi Pops on the reservoir.
The Mississippi Symphony Orchestra hosts the event Friday, May 11, at 7:30 p.m. at Ridgeland's Old Trace Park off Post Road on the banks of the Ross Barnett Reservoir. Gates open at 4:30 p.m. for those who want to get the best patches of grass for the festivities.
The Pepsi Playground will be open from 5 p.m. to 7 p.m. for the kids. Also at 5 p.m., a pre-concert begins with the Mississippi Youth Symphony Orchestra, Mississippi Swing, and Cello and Voice, featuring favorite hits from the 50s, 60s and 70s. A concession stand will be open for food purchases, glow sticks and posters, but pack a picnic supper for a relaxed evening.
The main event starts at 7:30 p.m. when Maestro Crafton Beck and the Mississippi Symphony Orchestra come to the stage for a program of patriotic songs. The evening culminates with what will surely be a spectacular show of fireworks over the water. And, like every year since 1980, you're sure to take some wonderful memories home with you.
Purchase advance tickets for Pepsi Pops at any area McDade's Market, Regions Bank branches, Kroger or from the Mississippi Symphony Orchestra office. Adult tickets are $12 in advance and $15 at the gate. Children's tickets (ages 4 to 18) are $5; children under 4 get in free. For more information visit http://www.msorchestra.com, or call 601-960-1565.
More like this story
More stories by this author