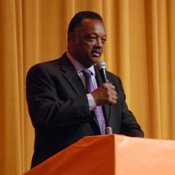 Pity the Callaway High School basketball team. Speaking at Callaway this morning, the Rev. Jesse Jackson asked members of the championship squad to stand as he asked a series of questions related to their commitment to the sport. Jackson, who heads the Chicago-based Rainbow PUSH coalition, pressed the young athletes on how long and how often they practice, whether they're allowed to listen to music during practice, and if they're allowed to chat with their girlfriends during workouts.
Jackson then asked the players if they devote as much time to schoolwork as they do preparing for basketball games and if they tune out distractions while studying. Jackson's message was that athletics and academics require many of the same cognitive skills, but young people often don't put as much effort into intellectual workouts as they do other things they're interested in.
The longtime human-rights activist visited the capital city this weekend working to establish a Rainbow PUSH chapter in the Jackson area. He wanted to speak to high school students because he was concerned about young people who might fall into self-destructive behavior.
"Each generation must address the issues of its time," he said. Jackson's remarks served as a brief lesson on the Civil Rights Movement, from Emmett Till's murder through the nonviolent protests of the 1960s to the killing of Florida teenager Trayvon Martin in March.
Trayvon Martin's case contained "ominous signs of danger" for civil-rights advocates, Jackson said. Martin, who was murdered after he was suspended from school, demonstrates that schools are "too quick to suspend" black students, and that stand-your-ground gun laws should be repealed, Jackson said.
Jackson also addressed "voter suppression" that could result from voter-identification laws passed recently in Mississippi and in his home state, South Carolina. Civil-rights activists have argued that the requirement might discourage minorities and young people from registering to vote, which would also keep them from sitting on juries in cases such as the upcoming trial of Martin's killer, George Zimmerman.
At the end of his speech, Jackson asked all students over the age of 17 to fill out voter registration forms.
Previous Comments
ID

167687

Comment

On top of everything else, its significant to register voters. Go Rev. Jackson!

Author

Meredith McGee

Date

2012-05-08T08:25:04-06:00
More like this story