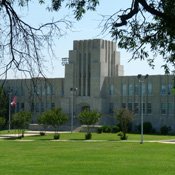 Jackson Public Schools plans to close one school next fall and reorganize others under a rezoning plan intended to account for population shifts in the city.
Under the rezoning plan, which will take effect in the 2012-2013 school year, Bradley Elementary School will close, and its students will go to Dawson, Johnson and John Hopkins elementary schools. Bailey Magnet High School will become APAC Middle School, and current Bailey students will go to Callaway, Lanier and Murrah high schools.
JPS has contracted with Eric Stringfellow, chairman of the Mass Communications Department at Tougaloo College, to communicate the plan to the public. At a press conference yesterday, he said some schools in south Jackson are overcrowded due to high growth in the area, whereas those in other areas of the city are under capacity. The rezoning plan should help the district meet state-mandated student-teacher ratios, he said.
"The days are gone when we can have schools with classes of 10 students, 15 students--we can't afford it," he said.
Some special programs will also be consolidated at single schools under the rezoning plan. The International Baccalaureate Middle School Program will be at Northwest Middle School, and the Montessori Program will be at McWillie Elementary School.
Stringfellow emphasized that the plan is not intended to punish teachers or administrators, but should address schools' overcrowding problems in a way that is free of emotion and in the best interest of the school district. The school board approved the plan last week.
The rezoning plan will affect about 3,000 students, in addition to teachers and staff, who will follow the students. No teacher layoffs are included in the plan.
Stringfellow said he understands that some parents and students are upset about the changes, especially those who are approaching graduation and just found out they will have to change schools.
"That reaction from parents was no surprise; we anticipated that," he said. "But again, I think we have to go back and look at the big picture: There was never going to be a good time to do this. ... Some people are going to be hurt more than others; we understand that. That's why we're going to bend over backwards to try to alleviate as much of that pain as we can."
Stringfellow said the district is talking to teachers, students and parents about ways to ease the transition.
"We understand how sensitive this is for the junior class at Bailey," Stringfellow said. "All of them have their senior year taken away, so the district is going to be doing a variety of things to be sure that that class stays connected throughout the year."
The district may have a prom, yearbook, homecoming or some type of graduation ceremony for the students, he said.
JPS is planning several community meetings at schools affected by the plan, including one at Bailey Magnet School tonight at 6 p.m. and one at Bradley Elementary School May 9 at 6 p.m.
Stringfellow said this is the district's first comprehensive rezoning plan in almost 30 years. For more details on the plan, visit jackson.k12.ms.us.
Previous Comments
ID

167667

Comment

I like the idea of Bailey reverting to a middle school, as it was originally designed (and placing the APAC program in what is certainly the most historic and interesting building in the district sounds like a great idea). Never made much sense to have two separate high schools almost next door to each other.

Author

ed inman

Date

2012-05-01T13:31:00-06:00
ID

167668

Comment

I agree... And it makes sense to put the IB program at one middle school where you can better focus resources and scare budget dollars and hopefully get better results....

Author

833WMaple

Date

2012-05-01T15:57:05-06:00
ID

167671

Comment

Anyone at JFP gotten a detailed rezoning plan yet? What JPS has posted on their web site is at best a press release, not a detailed document.

Author

Pilgrim

Date

2012-05-02T11:53:25-06:00
ID

167674

Comment

I wonder why JPS didn't wait until the new superintendent wasn't in place so that he could review the plan.

Author

golden eagle

Date

2012-05-03T16:53:55-06:00
ID

167675

Comment

C'mon folks! This is the sort of job where you take the story from the CL and broadcast media and make them cry. Did JFP have a reporter at the parents' meeting last night? I understand things got a touch heated,

Author

Pilgrim

Date

2012-05-03T17:04:27-06:00
ID

167678

Comment

Pilgrim, Elizabeth Waibel, who wrote this story, was at the meeting. If you click on the link provided, you can download the full plan as a PDF.

Author

Ronni_Mott

Date

2012-05-04T09:48:15-06:00
ID

167680

Comment

Ronni, That's the 1 page press release I was fussing about. If _that_ is their rezoning plan, we parents of kids attending public schools are in so much trouble its not funny. You see, I do some project management for a living and that isn't an adequate plan. It needs _details_. See if Waibel can get an interview with Stringfellow on this. Or Dr. Sargent. Or find someone off the record for background. Because the coverage on this has been focusing on sobbing teen agers and less on what the details are, when things begin to change and how they plan to put it in place. You might also do a bit about how this has been so badly handled and communicated by JPS administration. Honestly, its a charlie foxtrot so far.

Author

Pilgrim

Date

2012-05-04T10:14:52-06:00
More like this story
More stories by this author
Like independent media outlets around the world, the Jackson Free Press works hard to produce important content on a limited budget. We'd love your help! Become a JFP VIP member today and/or donate to our journalism fund. Thanks for considering a JFP VIP membership or one-time support.