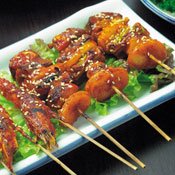 When I walked into Stix restaurant, I saw flames shoot up from a table out of the corner of my eye. The aroma of spices and fresh vegetables filled the air. It was my first time in a hibachi restaurant, but looking at the menu, I had plenty to choose from: vegetables, seafood, rice and meats.
I thought hibachi was a new type of food, but it has actually been around for years. Many Americans confuse the word hibachi with "hibachi-style" dining, also known as teppanyaki, where many people sit and dine together surrounding a large, flat cooking surface. The chef stands in the center, cooking and serving food.
What I didn't know is that a hibachi is a stove. In North America, a hibachi is a cylindrical or box-shaped, open-topped container for burning charcoal. It was originally called a shichirin in Japanese, but due to mispronunciations, it became know as a hibachi grill.
Hibachis originated in China during the Heain period (798-1185 A.D.). The word hibachi means "fire bowl." Before World War II, middle- and upper-class people in China and Japan often used hibachis to heat their homes. In times of war, troops used them as cigarette lighters and portable heaters in the field. Depending on the availability of materials, many grills were made of clay, but craftsmen used also used metals and ceramics to form hibachi grills. Artisans added decorative embellishments and precious materials, such as gold. After World War II, oil heaters replaced hibachi grills in Japan. In China, people changed hibachis from heating stoves to cooking stoves by placing a griddle on top of a bowl to quickly heat and cook foods.
Some American restaurants use hibachis to "flame" food. The grills have no lids, so they quickly cook rice, vegetables and meats. A chef's performance for his guests—such as throwing raw eggs into the air and catching them in a hat, making onion "volcanoes" and tossing shrimp into guests' mouths—is as much a part of the meal as is the food. It can be a fun experience for the whole family.
There are several hibachi-style restaurants in the Jackson area. Prices range from $10 to $40 per person. Try Stix (109 Marketplace Lane, Flowood, 601-420-4058); Bonsai (1925 Lakeland Drive, 601-981-0606; 102 Clinton Circle Drive, Clinton, 601-624-4448); Nagoya (Interstate 55 N., Suite 131, 601-977-8881; 111 Colony Crossing Way, Suite 380, Madison, 601-856-5678); Kyoto (6800 Old Canton Road, Suite 104, Ridgeland, 601-956-8268); or Hoikkado (1029 Highway 51, Madison, 601-856-1778).
For more mouth-watering treats and tasty eats, chow down over at our Food Blog and the JFP Bite Club Facebook page, and follow the aroma on Twitter. Be sure to bring your appetite!
More like this story
More stories by this author