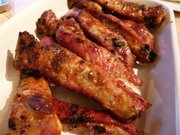 As funny as it seems to advocate beer as a non-drinker, I often cook with wines and cooking sherry—why not beer?
I lived in Montgomery, Ala., for a few years and was very active in my church. We wanted to raise money for our church's annual fundraising drive. So, we decided to have a barbecue at one of the local grocery stores.
We had the usual: ribs, cole slaw, baked beans, tea, lemonade, bread, hot dogs, etc. … I also bought some local honey. Of course the honey was the number one seller, but the ribs were a close second. After I ordered my plate, I began to see why they were so popular. These were the best ribs I had ever tasted. A friend of a friend cooked the ribs for us. He had the charisma and obviously the right ingredients to sell. I asked him what he did to get these ribs to taste so good and he became silent. He would not give me a clue.
Later on, though, my friend shared the secret. He told me that this guy marinated his meat in beer and was afraid to tell me since this was a church-sanctioned fundraiser. Well, I was pleased with the sales, and no one got drunk, so the beer served its function,
I suspect.
Beer and Honey Ribs
1 24-ounce can of beer (any type)
6-8 cuts of spare rib
½ cup dry sausage mix
½ cup pure honey
Wash the ribs and place in a bowl. Pour the beer over the ribs and cover. Place in refrigerator over night. Pre-heat the oven to 450 degrees. Remove the ribs from refrigerator and pour off all the beer mixture. Pat the ribs dry with paper towels and place in a shallow pan, bone side down. Sparingly rub on the sausage seasoning mix, and pour the honey over the ribs evenly (you do not have to rub in the honey). Place ribs in a shallow aluminum pan and cover with aluminum foil and place in the oven for 30 minutes. Remove the foil and cook uncovered for another 30 minutes. Serve and enjoy! You can also grill the ribs on open flames using the dry rub or your favorite barbeque sauce.
Serves: 2
More like this story
More stories by this author