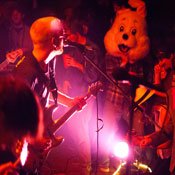 Just the other day, I couldn't help but brag about how musically awesome Jackson has been in the last year. From the Allman Brothers (Dusty and Buck) doing their part in getting national acts to the City with Soul, to the impressive bars, restaurants and venues we have here that support live, local music, to Ardenland bringing in a wide variety of musical acts, I'd say Jackson is looking up.
For years, the joke was that big-name musicians and bands stopped in Jackson for bathroom breaks on their way to and from New Orleans and Memphis.
Our music scene always seemed to be lagging––but I agree with friend and Jackson music fan Ian Williams who says, "There is no reason why Jackson can't be the next Athens or Austin."
We are on the right path to making Jackson one of the top places for music in the South, so please continue to support our wonderful musicians, as well as the venues where they perform.
Besides the usual venues, local restaurants are also starting to host live music. Abeba Ethiopian Restaurant (3716 Interstate 55 N., Frontage Road, 601-713-1500) has blues music on Friday nights. One of Jackson's newest eateries, Jaco's Tacos (318 S. State St.), not only has great tacos, but also features a live band most weekends. Even Morningbell Records (Duling Hall, 622 Duling Ave., Suite 212, 769-233-7468) is bringing in national acts and giving Jacksonians yet another venue to hear music we wouldn't normally be exposed to. I am also excited that Sal and Mookie's (565 Taylor St., 601-368-1919) has redone the Pi(e) Lounge patio and is featuring live music there this summer. The Cedars in Fondren (4145 Old Canton Road, 601-366-5552) will host the C Spire Summer Music Series. The series of events is free and kid-friendly (for more information, visit http://www.fondren.org).
Please check the JFP music listings (http://www.jfp.ms/music/listings) for more information on where you can hear great music this summer.
The month of June is packed tight with amazing music. Chapel Hill, N.C.-based Lost in the Trees along with Brooklyn rock band Daytona play at Duling Hall on Thursday, June 21. Nashville's Space Capone performs at Martin's on June 23, and I'm telling you, this funk-soul brother is amazing. You will shake your tail feathers all night long to his catchy songs. One of my favorite groups growing up, New Edition, performs June 30 at the Mississippi Coliseum. I am so excited about getting to see this group perform live in Jackson (and yes, I'll be front row screaming for "Candy Girl" and "Cool It Now").
So far my summer rocks, and I hope yours is going great as well. Please continue to support local music, and send me your listings by Monday at noon. If you see me out and about, please say hello. Thanks for all your support!
More like this story